Reporting and Support available for Behaviour that falls below the Standards of the Fire Code of Ethics
Northamptonshire Fire & Rescue Services have approved and are embedding the National Fire Code of Ethics into the Service: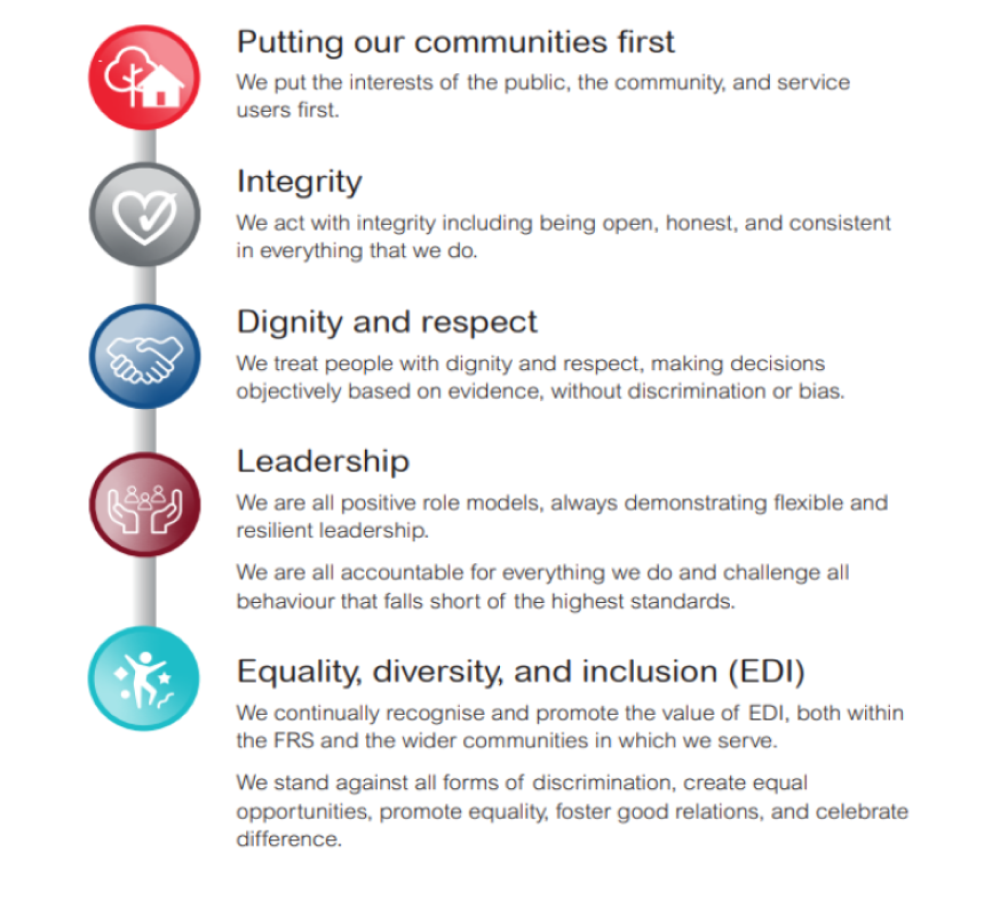 SUPPORT PATHWAYS AND SERVICES
If you have seen or experienced behaviour that falls below the standards of the fire code of ethics, you can raise a complaint by contacting the Office of the Police Fire and Crime Commission (OPFCC).
The OPFCC is responsible for the receipt and recording of complaints against Northamptonshire Fire and Rescue Service.
You can contact the Customer Service Team at the OPFCC by:
Telephone:
01604 888881
Email:
customerservice@northantspfcc.gov.uk
Post:
The Office of the Police, Fire and Crime Commissioner, Darby House, Darby Close
Wellingborough, Northamptonshire, NN8 6GS
Once you have raised a complaint you will be contacted about your case, and you will be assigned a point of contact to ensure you are supported and communicated with through the process.
Our privacy policy detailing how we handle your data, can be found here.
Alternative, contacts for local and national support services
NHFT & Mind 24/7 mental health support number:
For the people of Northamptonshire- 0800 448 0828 – Lines available 24 hours a day, seven days a week
VOICE for Victims & Witnesses:
www.voicenorthants.org or contacted on 0300 303 1965
Samaritans:
They are available 24/7, 365 days of the year. Telephone number: 116 123 or: www.samaritans.org
Sapper Support:
Provide mental health support for former employees of emergency services or Forces, They are staffed by veterans and 999 personnel. They can be contacted on free phone number: 0800 0404 7873 or via text on 07860 018733.
The Fire Fighters Charity:
For current and former fire employees, the charity provides rehabilitation and respite but also mental health support. They can be contacted through their support line: 0800 389 8820 or more information can be found via their website: https://www.firefighterscharity.org.uk/how-we-can-help/mental-health.