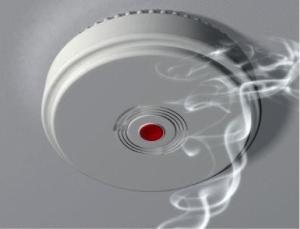 It's better to prevent a fire from happening in the first place than to put it out when its grown out of control. Fitting smoke alarms in your home will provide an early warning sign in the event of a fire and allow vital extra time to escape.
The most common source of false alarms in smoke detectors is contamination (such as dust and small insects) within the sensor chamber. Cleaning the unit by either vacuuming around the central detection chamber or blowing it out with the cold setting on a hair dryer normally resolves this issue.
Beeping or chirping is normally due to low battery power in the alarm. This beeping most commonly starts at night due to the drop in temperature causing a decrease in battery power.
If the unit is battery powered you should replace the batteries as soon as possible
If the unit is wired into your main electrics you will need to contact a qualified electrician to take a look
Another reason for false alarms could be down to the age of the unit. Smoke and heat alarms are designed to last for around ten years, after which it is recommended that they are replaced as the sensors start to deteriorate and are no longer as effective. There should be a 'replace by' sticker on the side or reverse of the alarm.
We are currently offering Home Fire Safety Checks to:
People who are less able to help themselves
People who are more at risk
People who need more in-depth fire safety advice because of unusual circumstances
Where needed, during a Home Fire Safety Check we can put up FireAngel smoke alarms with a 10 year sealed for life lithium battery. If you have one of these alarms which have not lasted to the end of their life expectancy or are experiencing any other problems with them please read the corresponding model user manual below, provided with the alarms before contacting us.
The manual provides advice on how to change the alarms, maintenance and a troubleshooting guide.
Strobe lighting and vibrating pad alarms are available for those who are deaf or hard of hearing. It may be useful to consider if other types of alerters would also be helpful in daily living. Alerters can often be linked to one system rather than needing lots of different pieces of equipment.
Contact the 'Action on Hearing Loss' information line on 0808 808 0123 or textphone: 0808 808 9000 or visit their website for further information.
Fitting alarms save lives, but only if they are working. Test yours every month. It's as simple as pushing the button.
Choosing and fitting alarms
Smoke and heat alarms are easy to install. They are available from most DIY and high street supermarkets:
Fit at least one smoke alarm on every level of your home
Keep smoke alarms away from kitchens or bathrooms as steam can set them off by mistake
You can fit a heat alarm in the kitchen; instead of detecting smoke these alarms are sensitive to changes in temperature and so won't give false alarms from cooking fumes
Choose smoke alarms with a 10-year or long lasting sealed battery
Make sure any alarms you buy are marked with a British Standards or European (CE) safety mark
Always follow the manufacturer's fitting instructions as poorly sited alarms may cause lots of false alarms
If it is difficult for you to fit smoke alarms yourself, ask a friend or family member to help you.
Other useful points to note
Standard battery operated alarms are the cheapest option but the batteries need to be replaced every year
If your alarms need batteries always buy good quality ones, longer life batteries are always the best option. If any of your smoke alarms have a one year battery, make sure it is changed every year
Test all of your smoke alarms when you install them and then at least once a month by pressing the button until the alarm sounds
Only take the battery out when you need to replace it; never disconnect or take the batteries out of your alarm if it goes off by mistake
Testing smoke alarms tests the smoke sensor as well as the power supply and/or battery
If the alarm does not sound when tested, the battery needs to be replaced
If the alarm starts to beep on a regular basis with no signs of fire, you need to replace the battery immediately
You can't see it, taste it or smell it but it can kill quickly and with no warning. Unsafe gas appliances produce a highly poisonous gas called Carbon Monoxide (CO). It can cause death as well as serious long-term health problems such as brain damage.
Why should I get a carbon monoxide alarm?
Because carbon monoxide has no taste, smell or colour you should fit an audible carbon monoxide alarm in your home.
While an alarm will alert you to carbon monoxide in your home, it is no substitute for using a Gas Safe registered engineer.
A carbon monoxide alarm looks similar to a smoke alarm and is very easy to fit by following the manufacturer's instructions. You can purchase a carbon monoxide alarm for around £15 at your local DIY store, supermarket or from your energy supplier.
Before purchasing a carbon monoxide alarm, always make sure it is officially approved to BS:EN50291:2001 or BS:EN50291:2010. It must have a British or European approval mark on it, such as a Kitemark.
You are particularly at risk from carbon monoxide poisoning while sleeping, as you may not be aware of early carbon monoxide symptoms until it's too late. Do not use the 'black spot' detectors that change colour when carbon monoxide is present. These will not make a sound to wake you up if the poisonous gas is present while you are sleeping.
For further information and to find a register of qualified gas engineers, please go to the Gas Safe website.
What is carbon monoxide poisoning?
Carbon monoxide poisoning occurs when you breathe in even small amounts of the gas.
When you breathe in carbon monoxide, it gets into your blood stream and prevents your red blood cells from carrying oxygen. Without oxygen, your body tissue and cells die.
Levels that do not kill can cause serious harm to health when inhaled over a long period of time. Long term effects of carbon monoxide poisoning include paralysis and brain damage.
Carbon monoxide poisoning – what are the symptoms?
Common symptoms include headaches, nausea, breathlessness, collapse, dizziness and loss of consciousness. Carbon monoxide symptoms are similar to flu, food poisoning, viral infections and simply tiredness. That's why it's quite common for people to mistake this very dangerous poisoning for something else.
Other signs that could point to carbon monoxide poisoning
Your symptoms only occur when you are at home and disappear or get better when you leave home and come back when you return.
Others in your household are experiencing symptoms (including your pets) and they appear at a similar time.
Signs that carbon monoxide could be in your home
The flame on your cooker, fire or boiler should be crisp and blue, yellow or orange flames mean you need to get your appliances checked.
Soot or dark staining around or on appliances.
Pilot lights that frequently blow out.
Increased condensation inside windows.
If you have a faulty appliance in your home, it could lead to carbon monoxide poisoning. Get it checked as soon as possible by a Gas Safe registered engineer.
The Gas Safe Charity's Think CO programme has produced a series of free resources about how to spot the sources, signs and symptoms of carbon monoxide poisoning and what to do to help prevent it. These include an e-learning awareness course as well as face to face workshops. For further details about both please email e-learning@gassafecharity.org.uk
They have also produced a free signed/subtitled and voiceover'd video on CO poisoning targeted at people with hearing loss. It was developed in partnership with Leicestershire FRS. It's available on YouTube.
Smoke alarms fall under the Waste Electrical and Electronic Equipment (WEEE) Regulations. When the time comes to dispose of your alarm you should take it to your local rubbish or recycling centre and place it in the section for WEEE which should be clearly marked.