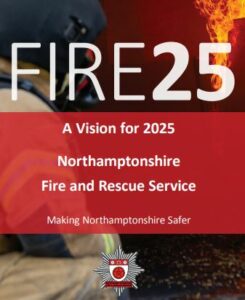 Northamptonshire Fire and Rescue Service (NFRS) is on a journey of improvement in how it keeps the public safe.
Chief Fire Officer Darren Dovey has set out his Vision 25, a document that outlines the steps that will take NFRS forward to 2025 and make still further improvements on how we deliver our mission to Make Northamptonshire Safer.
You can read more here (PDF 7MB).
Vision 25 feeds into the Community Risk Management Plan (CRMP) for NFRS. You can find out more here.