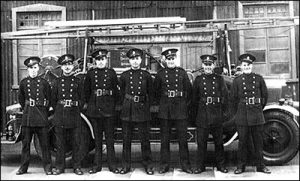 (Above: Burton Latimer Fire Brigade 1942)
L- R: Pete Barlow, Frank Clipston, Gilbert Neville, Jack Oram, Bill Griffith, Fred Toseland and Ron Coleman. The Dennis fire engine now has pneumatic tyres)
Burton Latimer station similarly to Rushden station obtained a Shand Mason horse-drawn appliance approximately from 1901 which was used until May 1914 when manual appliance built by Shand Manson was purchased and delivered to Burton Latimer's Parish Council. This was when the new fire station was opened in Duke Street.
In the Kettering Leader newspaper dated 23 January 1914, it was reported that Burton Latimer Parish Council were considering a loan of the fire appliance from Kettering Urban District at the cost of £5 per annum. This proposal is believe to be an agreement whereby Kettering's steamer appliance would be made available to attend any large fires in the Burton Latimer area. This would provide extra cover/assistance to Burton Latimer's manual pump. Rothwell Council also considered the same idea shortly after experiencing a large fire.
A new appliance had been approved which saw a 16 person machine, meaning that 16 individuals would be needed to run this, including 8 men each side to pump the handles. Usually this would be the job for bystanders at the scene, any bystanders who took part would receive payment from the Fire Station once the fire was extinguished. The new appliance had the potential of pumping 62.3 gallons of water per minute if pumped at 55 double strokes (one up and one down), compared to today's average 500 gallons per minute.  The appliance also carried a short ladder for rescues. Although this was a massive leap in development there were setbacks; in order for the appliance to work it had to be set into a water supply before the hoses could work also, horses were still required to pull this therefore individuals had to fetch the horses from their fields which could potentially be a distance from the station causing delays in arriving on scene.
At the same time as this manual pump being used, the hose cart also turned out to incidents. In other areas, the hose cart would be the first appliance to be taken to a fire and this was pulled by hand. The hose cart is believed to have contained a standpipe for connecting into the street water mains, as well as a hose and branch. The hose cart was in order to assist the firefighters to begin control of the fire prior to the arrival of the manual pump appliance. There is no solid evidence to confirm that the hose cart was used this way at Burton Latimer however evidence shows this was used at Kettering. In later years the hose cart was used for competition drills between stations. The winner of each station was presented with a cup, Burton Latimer have one displayed in their station.
Burton Latimer acquired two other motorised appliances after a demonstration was held at their station by the Council in 1927 (these two appliances are thought to have been from Kettering). The demonstrations involved one display of pumping water from the mains and pumping water from open water. Burton Latimer went onto purchase a new appliance that was motorised and manufactured by the company Dennis. It was delivered in May 1928 and included an open top, spoked wheels and solid tyres. The appliance showed great improvements and featured an "Ajax" double extension ladder. Years later the wheels were changed to solid rims and the tyres were changed to pneumatic tyres. In May 1949, the appliance was sold to a scrap dealer in Finedon along with similar pumps from Wellingborough, Irthlingborough and Desborough at the total price of £84 for all four. The appliance was replaced with an Austin A40 and trailer pump (registration number: GXG301). Again fitted with an "Ajax" ladder but also had a water tank in the rear. Improvements were being made across the County to include the best equipment for saving lives. This pump was fulled enclosed so the crew now had protection from all elements whilst dressing in the rear and for the driver and officer in charge within the cab. Although all members of the crew had adequate room for travel, they only had one small window each side of the appliance which was not easy to look through.
The next appliance for Burton Latimer came in the late 19-50's which was a Bedford appliance (registration number RNV196). Burton Latimer utilised this appliance until 1974 where it was transferred to the new station in Pigotts Lane for a short while before being replaced. The appliance had only one set of doors each side of the cab crew with the officer in charge and driver having to climb over to get to the front of the cab.
Another Bedford appliance (registration number LRP554E) was sent to Burton Latimer station in 1974 until approximately 1980. The appliance was of a standard design for a water tender which included a 500 g.p.m pump, a 10.5m double extension ladder, a 5m short extension ladder, roof ladder, various hoses and equipment. A portable pump was also carried which was capable of pumping 250 g.m.p.
Next another Dennis appliance (registration number TVV 356K) was transferred from the Mounts and this was classed as a major pump which is capable of pumping 1000 g.m.p through four deliveries. The suction hose was 5″ diameter compared to the normal 4″. This was to provide extra lift when working from open water. The standard appliances usually have a red cab and silver bodies but the Dennis was red all over. Also the Dennis doors were hinged at the top and had to be lifted by hand.
The engine in the Dennis was a Rolls Royce 8 cylinder petrol engine, giving plenty of power but using a lot of fuel. The Dennis was then removed from the Service between 1985/1986 following major engine failures.
Next, another Bedford appliance arrived (registration number ONH 769V) which was used by Burton Latimer crew until 1990/1991.
The next appliance to arrive was a Dodge appliance (registration F110 CBD) which was of standard design but updated with a 13.5m ladder. This appliance was used at Burton Latimer until 2001.
The appliance used currently is another Dennis (registration number LI03 JRP). Improvements can be shown with the recent pumps to include a lot of new equipment and protection materials. The Fire Service are utilised not only for fires, but for other services such as Road Traffic Collisions (RTCs) which means we require to carry move innovative Equipment.
For more information regarding NFRS appliances, please see our fleet list.