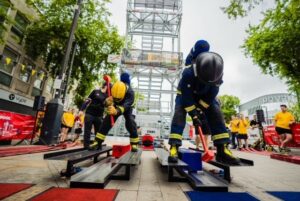 Members of Northamptonshire Fire and Rescue Service (NFRS) will take on firefighters from across the country at the British Fire Fighters Challenge in October.
Around 250 firefighters will take on the gruelling challenge at the Fire Service College in Moreton-in-Marsh which will test their strength, skill and speed.
Representing Northamptonshire are group manager Stef Douglas, training instructor Bec Meachin, firefighters Dean Keeber, Lee Brown, Paul Webb and Aaron Childs and on call firefighters Sarah Damani and Ben Wilkie.
The British Fire Fighters Challenge raises vital funds for The Fire Fighters Charity which supports the mental, physical and social needs of all serving and retired members of the UK's fire family. The Charity provides independent, personalised support to thousands of people each year, and they're not all firefighters. They exist to support all fire and rescue service personnel, whatever their role in the service. They are also there for all those who have retired, as well as for spouses and dependants.
If you would like to support your firefighters, you can do so by donating on Northants Fire and Rescue British Firefighter Challenge fundraising for The Fire Fighters Charity on JustGiving
Meet the team
Aaron Childs has been a firefighter since 2002 and is currently full time based at The Mounts in Northampton and is also on call at Towcester Fire Station. Joining the fire service was a life-long dream since he was young. He tailored his education to fulfil that dream, attending college to undertake a public service course to help him secure a job.
Aaron is no stranger to the BFC having taken part and been placed fourth in his age category in 2018, achieved third place in the relay and first place for his age group in the 'virtual' challenge in 2020.
Aaron loves his job and being in good shape is a key part of his commitment to the role. In order to maintain his fitness, he regularly attends his local gym and in preparation for the BFC he is completing job-related circuits on the station.
Aaron took first place in the Cheshire Firefighters Challenge in August with the winning time of 2.50 minutes
Bec Meachin started her career in the fire service almost five years ago as on call firefighter for Nottinghamshire and Oxfordshire Fire Services. She made her move to Northamptonshire Fire and Rescue Service 12 months ago and is now a training instructor for the service.
Bec is a keen ambassador for women in the fire service and wanted to be a role model for other women joining the service. She wanted to do something different and exciting and that would enable her to retain her fitness levels.
During lockdown Bec undertook a fitness challenge to support the NHS which was founded in 1948. She decided to climb 1948 floors on a stair master whilst wearing fire leggings and boots. It took her 7hrs and she clocked up a distance of 40 miles.
Bec is not totally new to the British Firefighters' Challenge (BFC) having competed in 2019 and then last year in the 'virtual' Cheshire Firefighter Challenge. The chance to win a medal spurs Bec on, along with the desire to prove that she can do it. She wants to show that women are capable of achieving the fitness level needed to become a firefighter and at nine and a half stone and five foot four inches, she has already done that.
To train for the Challenge Bec is combining weightlifting, using her home gym and running around her garden replicating the job-related activities in the BFC. She is looking forward to training with the team on station.
Ben Wilkie joined as an on call firefighter at Towcester in 2017. It's something he wanted to do from an early age. Motorbikes and fire trucks were his obsession as a child and in fact still are now.
If the opportunity was there to go whole time, he would. He loves the job and helping others; talking to and meeting new people, giving advice and assistance to friends, family and colleagues where he can. Ben also loves working in a team of like-minded people.
This will be his first entry into BFC. After watching Aaron Childs and Dean Keeber in Watford 2yrs ago Ben thought the Challenge looked good fun and would push him physically at the same time, so it really appealed.
Ben tries to keep an eye on his fitness and health since losing his dad 4 years ago. He enjoys high intensity interval training workouts, although injured himself six weeks ago so his training routine has been disrupted somewhat. He's really looking forward to getting back into general training again but more so the specific training with the other members of the Northamptonshire BFC team.
Dean Keeber has been a firefighter with NFRS for seven and a half years working full time at Wellingborough Fire Station and also on call at Irthlingborough. He is no stranger to the British Firefighters' Challenge having participated three times already and having represented Team GB in the European Challenge in Germany, France and Austria.
Dean's accomplishments include four first places and one second place since he first competed the Challenge in Leicester in 2017. Dean was hooked after this first challenge and is keen to continue participating for many years to come. He enjoys testing his fitness and meeting fellow firefighters from all over the world, many of whom have become great friends.
His training strategy is to replicate as much as possible the activities involved in the challenge and also to support his team mates to achieve the best results they can too.
Dean completed the Cheshire Firefighters Challenge in 2.54 minutes, achieving fourth place out of 100 participants
Lee Brown has been serving as a firefighter in Kettering for around four years. It was not a career he had really considered, until a friend mentioned that Northampt
onshire Fire and Rescue Service were recruiting. Lee applied, passed all the training and has never looked back.
This year will be Lee's first attempt at the British Firefighters' Challenge, but he has participated in various obstacle course races and a number of running and fitness challenges over the years. Lee enjoys fitness and is currently training for a series of events throughout 2021.
His training schedule is pretty packed; he trains for between eight and 11 hours each week, running for 20 – 30 miles combined with three or four strengthening and conditioning sessions each week. On top of that he has now included some technique-based training specifically for the British Firefighters' Challenge.
Paul Webb joined Warwickshire Fire and Rescue Service 15 years ago and transferred to Northamptonshire in 2019. He is a full-time firefighter at Wellingborough Fire station and is also on call at Raunds Fire Station. His interest in the fire service is driven by his family connections with public service. Paul's father was in the RAF and his sisters are both paramedics. Paul was looking for an active job which was well respected and presented him with career opportunities. He also wanted to be a hero!
Paul competed in last years' 'virtual' Challenge to set himself a benchmark for the real thing. In preparation, he is following a specific programme prepared by instructors at his gym and is participating in high intensity training, with his focus firmly on beating the time he set in the virtual challenge.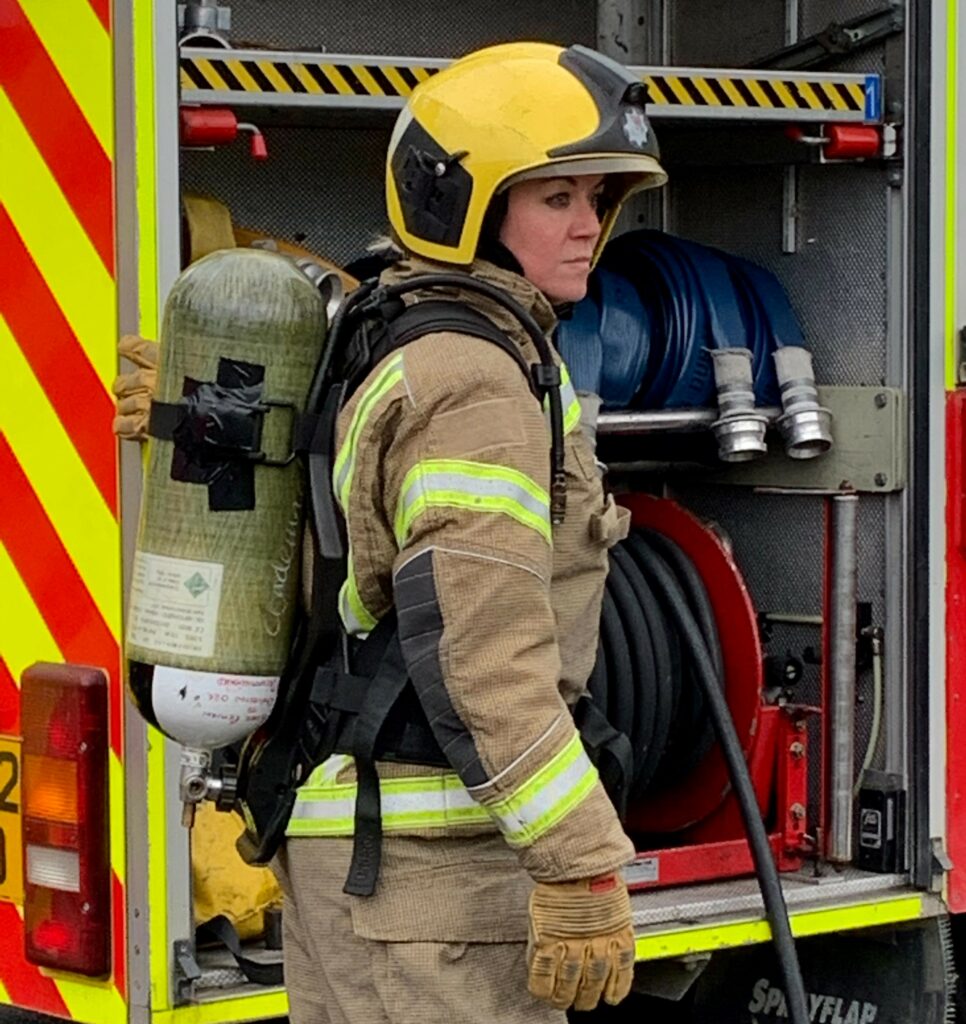 Sarah Damani runs a virtual assistant business as her full-time job, but 18 months ago she joined Northamptonshire Fire and Rescue Service (NFRS) as an on call firefighter based at Earls Barton Fire Station. Sarah was looking for something more, that supported the local community and gave her a positive reason to stay fit and active.
Sarah has never completed a challenge of this nature but wants to use this opportunity to challenge her own fitness level, make a positive impact for the service and hopefully to inspire other women to give it a go.
She is preparing for the Challenge with daily cross-fit training, weekly job-related training and dog walking in a weighted vest.
Stef Douglas has served 24 years in the fire service with the last two of those for Northamptonshire, where he is group manager and the service lead for equality, diversity and inclusion. Stef joined the fire service to be challenged, to do something different and something he could feel proud of.
He is new to the British Firefighters' Challenge but not new to competing, having completed multiple Iron Man triathlons, he's cycled from John O'Groats to Lands End, raced mountain bikes, played volleyball at the World Firefighter Games and played rugby league for Scotland. He has also walked Hadrian's Wall dressed in full Roman armour (as pictured).
Stef is taking on the BFC because 'it looks hard' and it's different to any of the other sporting activities and challenges he has already completed. He is also keen to fly the flag for officers in service to prove that they are 'not all past it!'