Northamptonshire's Arson Task Force (ATF) was established in 2004 and is a partnership between Northamptonshire Police and Northamptonshire Fire and Rescue Service (NFRS).
Over the years we have created a network of partners that allow us to deliver our objectives and remain citizen-focused. By doing this we can contribute to the NFRS four arson reduction strategic objectives:
Prevention
Education
Investigation
Detection
These areas of work will address the needs of our communities and will support key aspects of the current Police and Fire Crime Commissioner's (PFCC) Policing and Fire Service Plan. The plan includes emphasis on reducing Anti-Social Behaviour, arson related violence, protecting the public, supporting vulnerable people, working with young offenders and reacting appropriately to domestic violence and hate-related crime and incidents. In essence, our work is very much focussed on the PFCC's vision of making Northamptonshire the safest county in the country.
Over the past sixteen years we have developed a partnership approach linking in with many agencies to ensure the goals and objectives of the fire and police service are met together with the goals and objectives of our partner agencies.
If you wish to contact the team with any concerns or for advice, please email arsontaskforce@northantsfire.gov.uk.
Prevention
Prevention is high on every agenda and deliberately-started fires have a significant impact on our communities and add to the degradation and decline of local areas. These types of offences affect the community increasing the fear of crime and anti-social behaviour.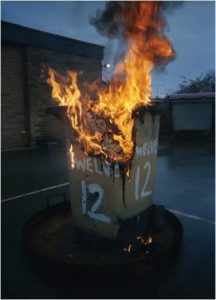 Safer Community
Partnerships across the county are engaging in regeneration programmes, working with many other agencies to deliver a comprehensive approach to existing problems and crime.
Fire surveys and smoke alarm fitting (Home Safety Visits) for those members of society who are assessed as high risk will continue to take place.
We will inform people and partners about how to prevent and remove the means and opportunities for deliberate fire setting.
We identify environmental issues that provide opportunities for arson and remove / reduce these by introducing sustainable strategies that are supported by our partners. By understanding the cause we are able to work more effectively towards the solution.
Fire Setter Intervention and Restorative Practice
The ATF engage with young people and adults who are fire setters and commit offences of arson. Often our engagement will involve schools, social services, parents/guardians and a variety of other interested agencies. Whilst the ATF are not the lead agency, we are able to motivate agencies to positive action, in order that risk concerning fire is greatly reduced.
If you are a professional or parent / carer of a young person or adult and you have concerns around fire setting behaviour please complete our referral form.
Domestic Violence
The ATF now act as gatekeepers for any arson referrals ensuring that a proper risk assessment is carried out prior to action.
Void buildings
Void buildings continue to be problematic and are a 'honey-pot' for drugs users, anti-social behaviour and offences of arson and criminal damage. The ATF continue to work with partners to ensure better management of void and derelict buildings. Responsible persons are contacted and advised of their obligations under the law especially with regard to consequences and apparent dangers. Northamptonshire can be proud of a good record when dealing with these types of properties and the ATF continues to build on its successes and ensure that partners continue to respond appropriately.
Detection, Investigation and Prosecution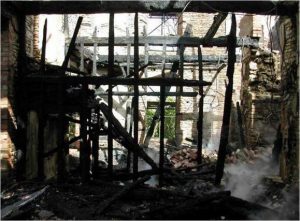 The ATF support the prosecution of offenders by ensuring the appropriate release of fire service products. These will include exhibits from the Fire Service control room in the form of audio recordings capturing incoming calls, incident reports, analytical products, impact assessment statements and the provision of previous fire information that could contribute to bad character evidence. These products have already been used to great effect.
Multi-Agency Public Protection Arrangements (MAPPA)
The ATF also engages with MAPPA to manage high risk arson offenders within the county to reduce re-offending.
Feedback
If you are a parent, professional or young person who has worked with us around fire setting, we would be grateful if you could provide feedback by completing the evaluation forms below. This will help us listen to your views and improve our service to others.