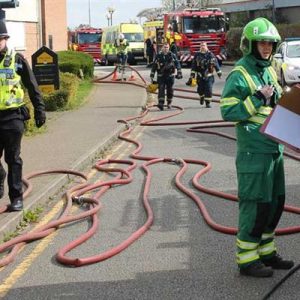 We work with other response organisations and emergency services to ensure Northamptonshire is prepared for a major incident and develop plans and test arrangements to ensure that a co-ordinated response can be achieved.
The Chief Fire Officer represents Northamptonshire Fire and Rescue Service at the Local Resilience Forum (LRF).
Membership includes emergency services, local authorities, government agencies, health, utilities, military voluntary organisations and businesses.
The LRF identifies and assesses local risks such as flooding, pandemic flu and utility failure. This information is collated and risk rated and the Community Risk Register updated to effectively monitor and manage risk in the county.
Resilience
Northamptonshire faces a range of potential threats and hazards.
As a Service we are constantly evolving plans in isolation and with partners to ensure we have:
the capacity to respond to incidents
the resilience to be able to maintain that response while dealing with other incidents in and around the county
We have developed our capability to deal with incidents through the support of the government and other agencies and have developed our fleet and staff accordingly.
We have the capability to deal with the consequences of terrorism, flooding and other large-scale emergencies alongside the more traditional incidents we attend such as fires and Road Traffic Collisions (RTCs).