An off-duty firefighter who rescued a distressed man on a dual carriageway, and a Station Manager that carried a 95-year-old woman to safety from her bungalow, are among those to have been commended for their lifesaving efforts.
The annual Northamptonshire Fire and Rescue Service awards ceremony took place in Northampton on Friday (November 3) and saw firefighters and fire staff commended for their actions as well as their long service.
In what was his first ceremony with the Service, Acting Chief Fire Officer Simon Tuhill handed out a number of commendations during the event – awarded to individuals, crews or teams that had helped to either save life or delivered an outstanding service to the public.
Firefighter Alfie Pendred, who is stationed at Rushden, was one of those commended (pictured above). While off-duty last December, Alfie, who was just 19 at the time, noticed a distressed man climbing over a bridge above the A45, and acted swiftly and calmly to prevent the man from jumping into the oncoming traffic.
He then helped raise the alarm for emergency services to arrive while offering assistance to the man. In his written commendation, ACFO Simon Tuhill said that Alfie had 'demonstrated the qualities and attributes that make the Fire and Rescue Service so highly regarded within our community'.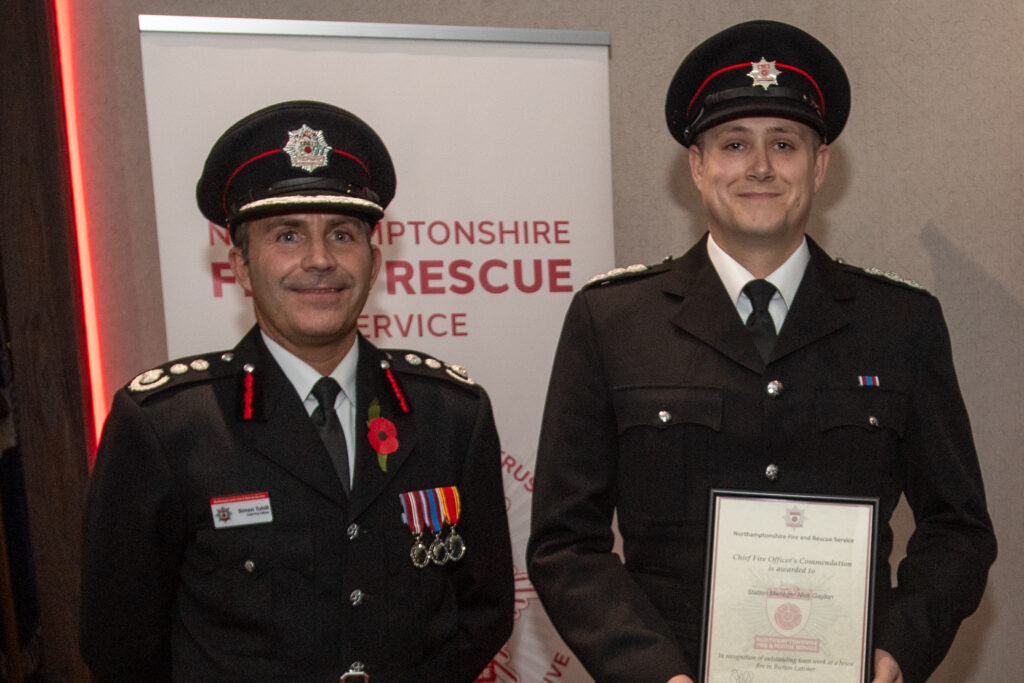 Station Manager Nick Gayton (above) was also commended for rescuing a 95-year-old woman from a house fire in Burton Latimer. He managed to gain entry to the home, find the woman, and safely lead her away from the smoke-logged property.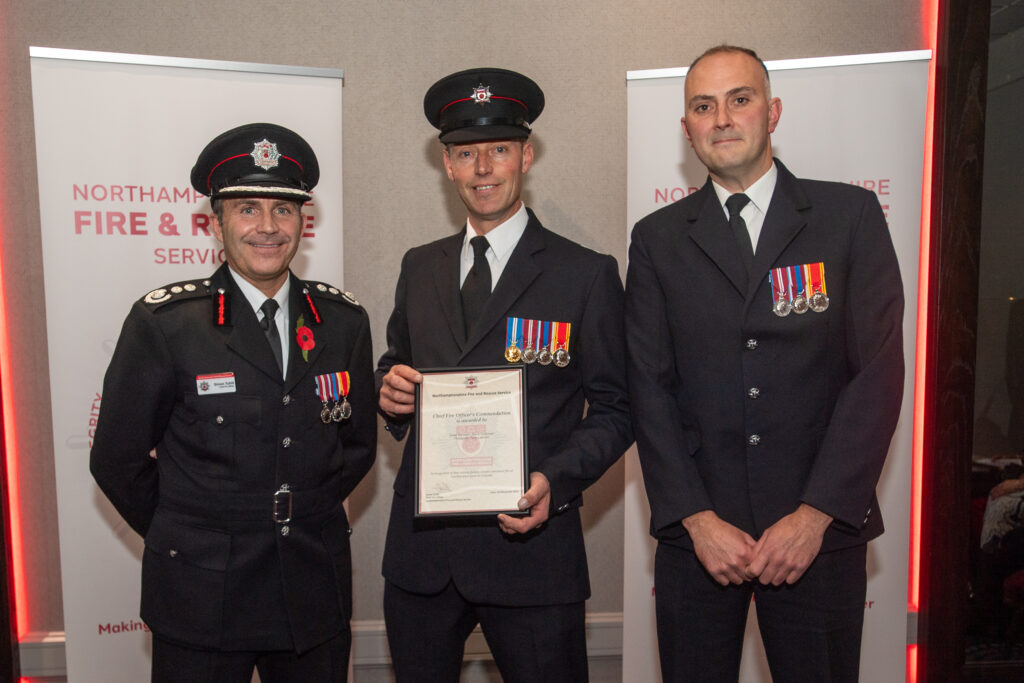 Crew Manager Steve Corcoran and firefighter Tony Labrum were rewarded for successfully extinguishing a challenging fire that had engulfed the basement at Northampton General Hospital back in March, stopping it from spreading to other parts of the hospital. And Blue Watch at the respective stations of The Mounts, Mereway and Moulton were collectively commended for rescuing a woman from a flat fire in Newnham Road, Northampton in August 2022.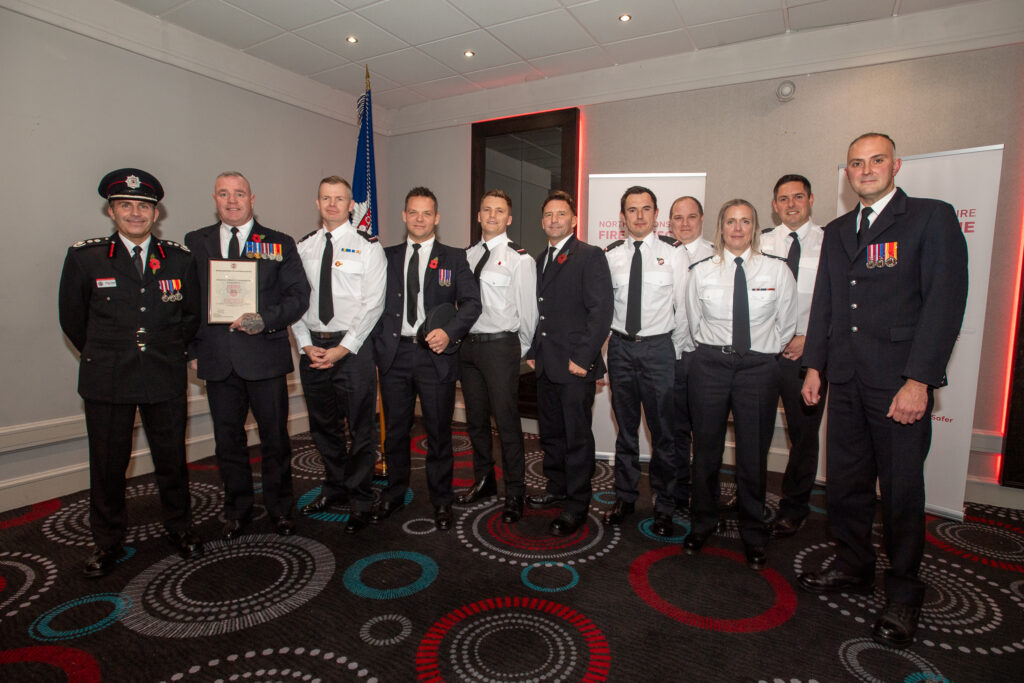 Watch Manager Jason Sorbie was also recognised for his rescue of a man from an assisted living complex that was on fire in Kettering in February earlier this year.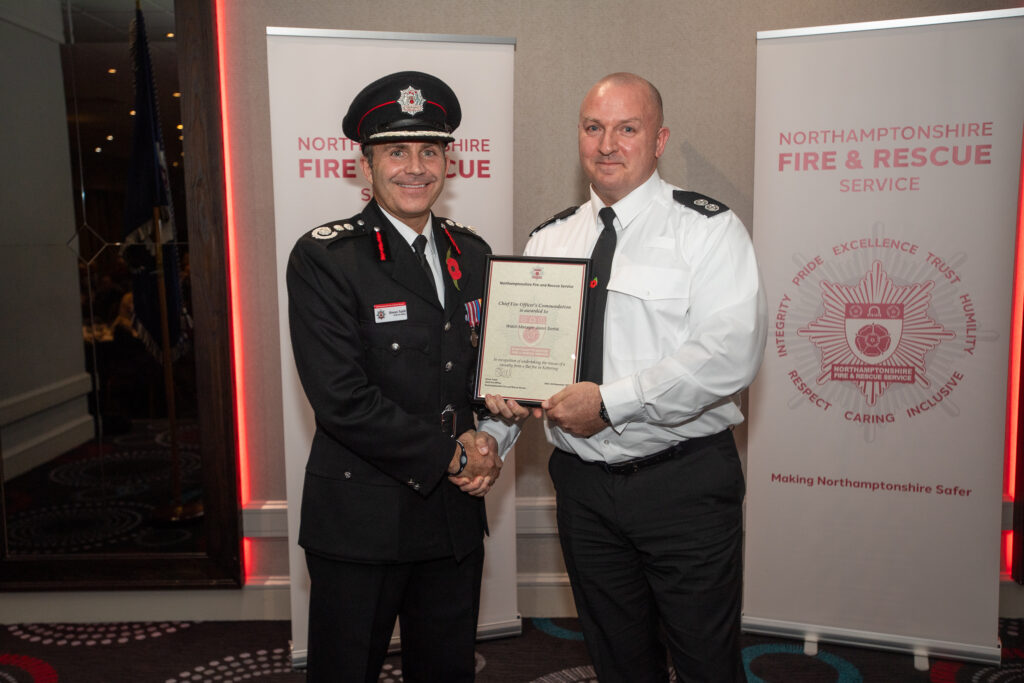 The last CFO accommodation was awarded to Station Manager Mark Layer, Watch Manager Mick Titcombe, and firefighters Paul Maher and Murray Wainwright for their respective roles in helping to rescue fellow firefighters, who had been injured while tackling a blaze at a commercial premises in Rushden in May.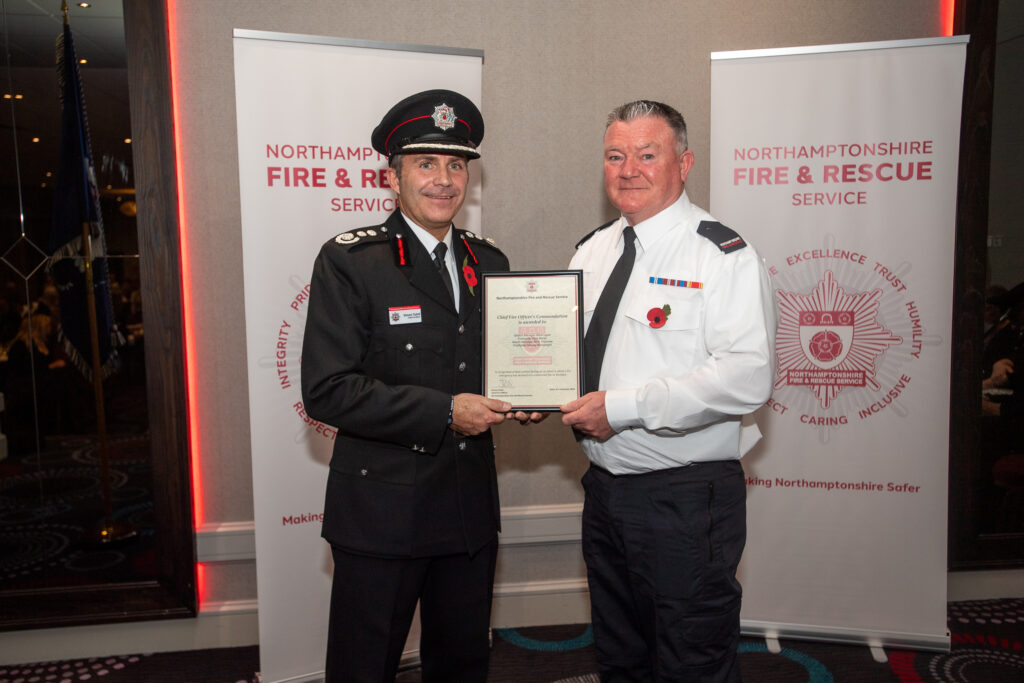 As well as commendations for lifesaving efforts, the awards ceremony recognised achievements from across the Fire Service. This included the day shift crew at Rushden being given an award for the work they had carried out in the community – including public safety events at Rushden Lakes, Stanwick Lakes and holding blood donation events at the station – as well as rewarding the Brackley on-call crew for providing the best availability for cover within the county.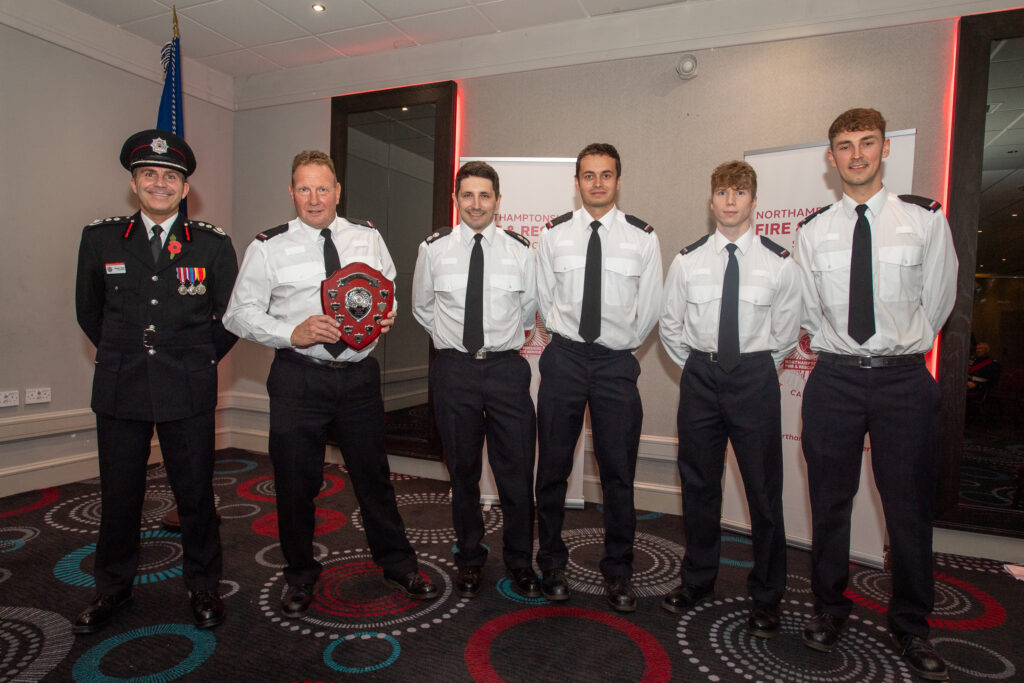 A number of individuals, both firefighters and fire staff, were also rewarded for their long service and good conduct over 20 and 30 years of service.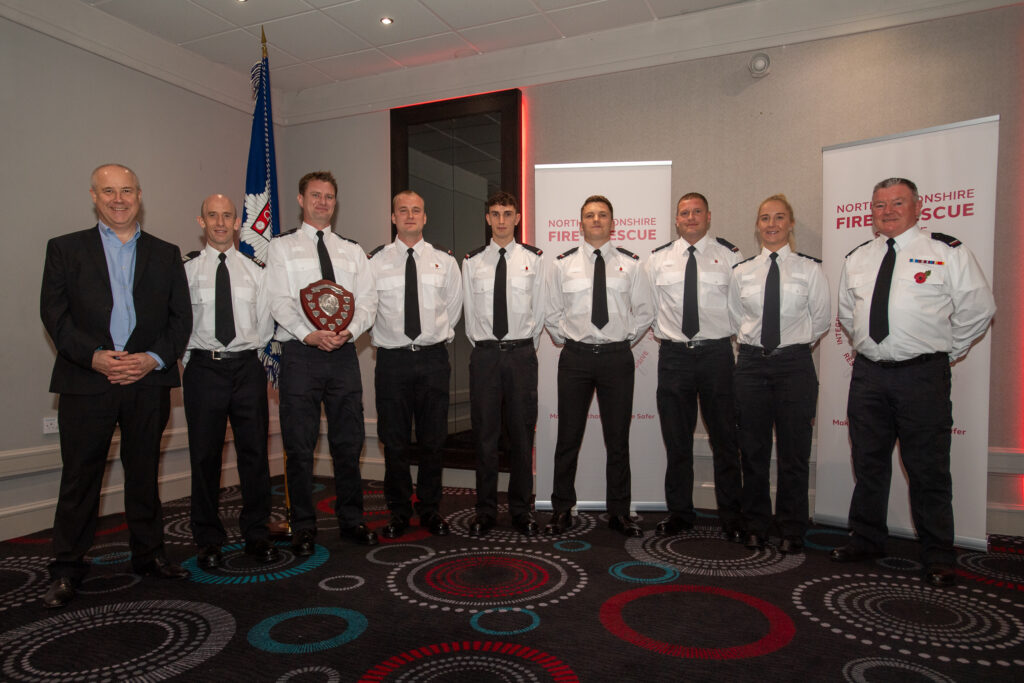 They are as follows:
Long Service and Good Conduct Medals, awarded for 20 years of service, were given to: FF Michael Bending, WM Jodi Brown, CM Graham Dexter, FF Christopher Dix, FF Christopher Evans, WM Philip Jones, WM Christopher Lane, WM Jamie Law, CM Lindsey Ramsay, FF Simon Reedshaw, FF Stephen Saddington, FF Tracy Turner, WM Lee Vanderhoeven, FF Philip Verity, FF John Wadsworth, WM Casey Waldock, WM Lee Dawson, CM Andrew Ilsley, FF James Moore, CM Mark Reeve, CM Richard Riddell and WM Darren Whitaker.
30-year Service Pins were awarded to: WM Darren Black, CM Steve Corcoran, FF Janice Dmytreczko, WM Mark Douglas, FF Nicola Evans, Retired ACFO Dr Shaun Hallam, AM Kev Hardwick, FF Paul Maher, WM Aidan Phillips, FF Bradley Smith, FF Peter Dixon, WM Andrew Garner, FF John Lynch and WM Dan Moore.
And Fire Protection Officer Ian Grieve was also given a 20-year long fire staff award.
Acting Chief Fire Officer Simon Tuhill said: "Since my arrival at Northamptonshire Fire and Rescue Service, I have been very impressed by the enthusiasm and dedication I have seen from the people who work here, and I have already seen some fantastic examples of the vital work that we do to keep our residents safe and serve our communities.
"Many of the people we deal with will be suffering one of the worst days of their lives, but the commitment that we all have to keep our residents and communities safe is what I honestly believe drives us all.
"It was great to celebrate these achievements, and we are very proud of each and every firefighter and member of staff that were recognised for their efforts."