A fire crew that rescued a distressed woman from a motorway and a Control team that dealt with an unprecedented number of calls during the summer heatwave are among staff to have been commended for their lifesaving efforts.
The annual Northamptonshire Fire and Rescue Service awards ceremony took place at Kettering Conference Centre on Friday (October 7) and saw firefighters and fire staff commended for their actions as well as their long service.
On one of his last days with the Service before retiring this week, Chief Fire Officer Darren Dovey handed out a number of commendations during the event.
Two commendations were rewarded to staff members who work for the Fire Service's Control team, which fields calls from members of the public who are dialling 999.
The Control team as a whole was commended for their efforts during the summer heatwave this year. The week commencing August 7 – when temperatures hit the late 30s – saw Fire Control take 802 calls compared to the 241 they had received in the same week 12 months prior. It also saw them mobilise crews to 328 incidents in total.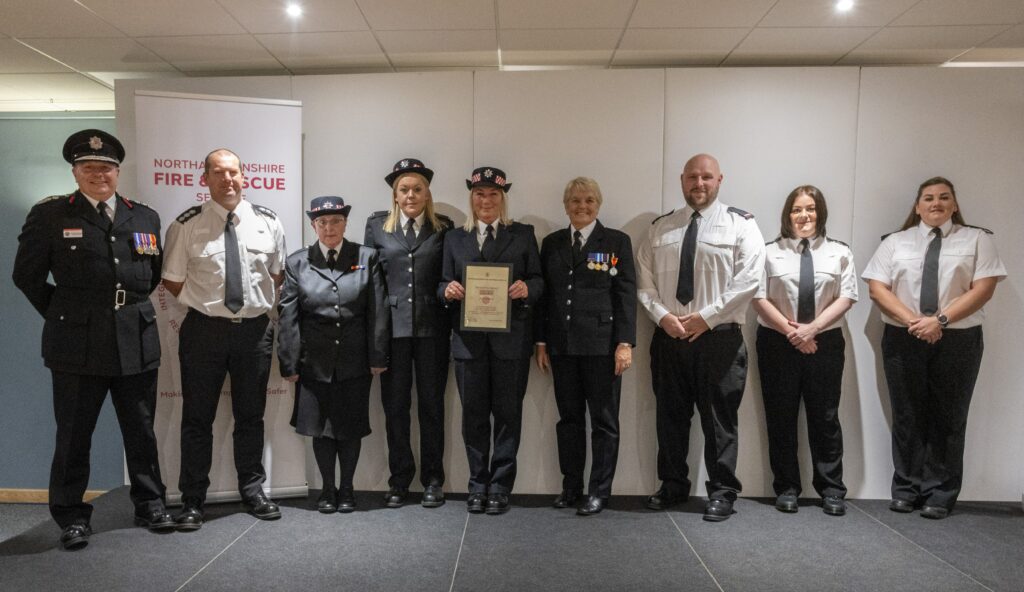 Darren Dovey said that all four watches across Control had been awarded the commendation as 'a testament to the tenacity, dedication and unrelenting action during this unprecedented summer period'.
White Watch in Fire Control received their own commendation for the professional way in which they handled a distressing fire at Rectory Farm in Northampton in March. Crew Manager Jo Garner was able to keep the caller calm, give clear instructions on the information the Service required and coach the caller to help keep other members of the public safe, helped by other members of her Watch – Maxine Smith and Janice Dmytreczko.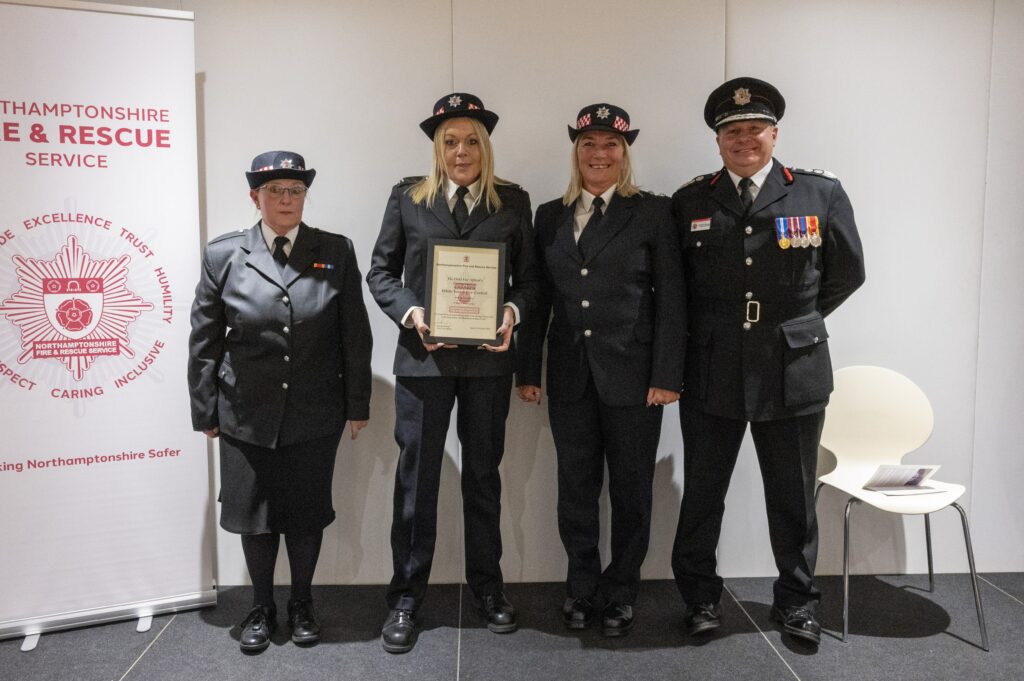 White Watch from The Mounts (Gary Robinson, Claire Corcoran, Luke Doran and Darren Attwood) were recognised for rescuing a distressed woman at the junction 16 roundabout of the M1, having just returned from another job.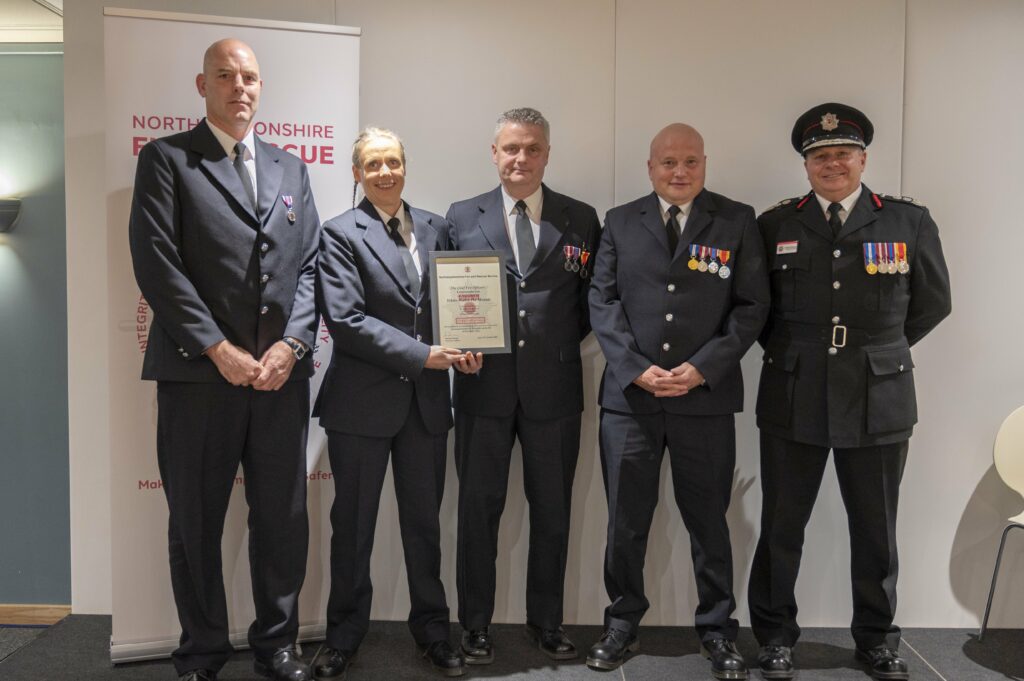 The Corby White Watch team (Heather Pugh, Alexandra Hindwood, Giovanni Gioia and Lynton Jacobs) were also commended for their efforts in rescuing a man from a house fire in the town and successfully reviving him at the scene.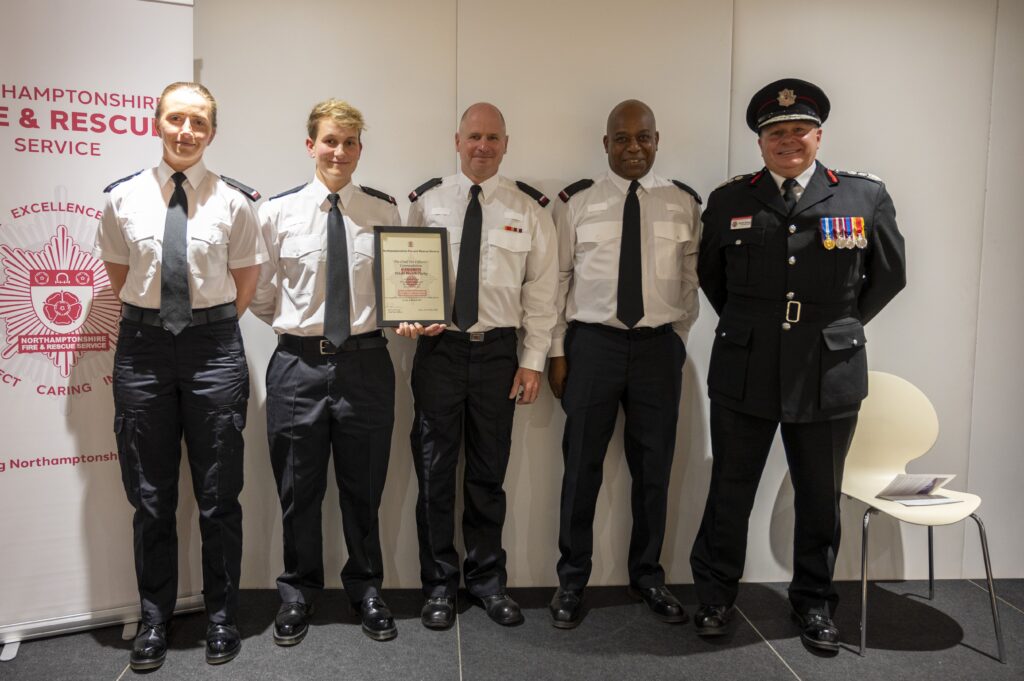 His Majesty's Deputy Lord-Lieutenant of Northamptonshire, Dominic Goble, presented 11 firefighters with 20 years of Long Service and Good Conduct medals. These were:
Watch Manager Aaron Childs
Firefighter Debbie Cox
Firefighter Luke Doran
Firefighter Natasha Dorrill
Station Manager Craig Douglas
Firefighter Simon Everitt
Firefighter Lynton Jacobs
Crew Manager Philip Melling
Firefighter Thomas Meyer
Firefighter Nicholas Turner
Watch Manager Carl Villiers
And former Crew Manager Glenn Randles was given a 30-year long service pin shortly after retiring last month.
Police, Fire and Crime Commissioner Stephen Mold presented White Watch Kettering with the Service's Community Engagement Award for their support of Johnny's Happy Place – a community interest company run by volunteers in memory of Kettering man Johnny Mackay.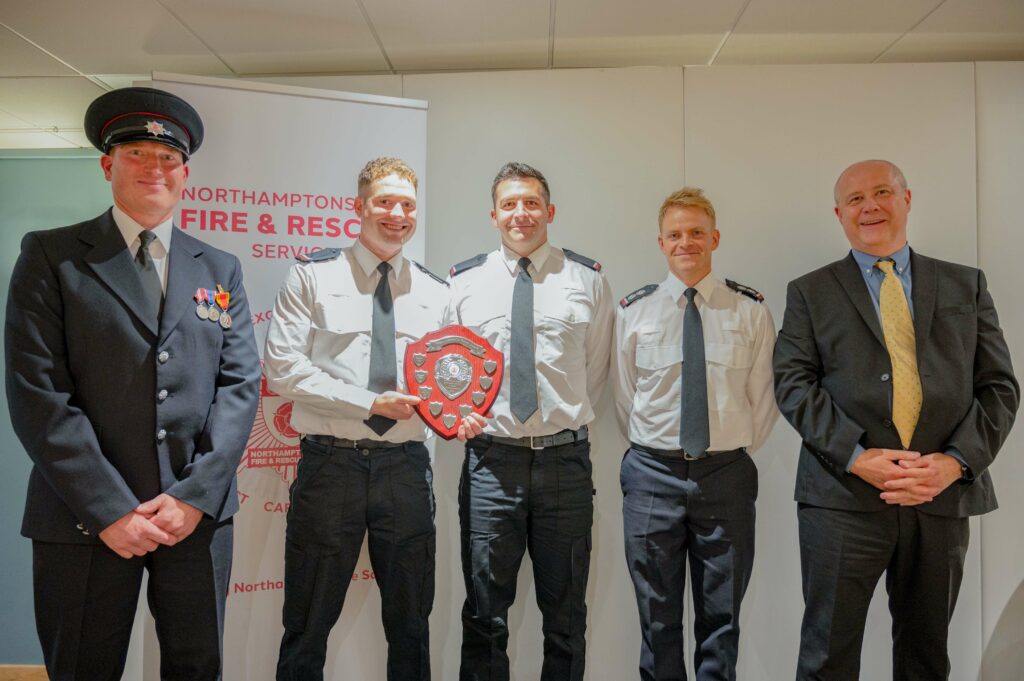 Johnny tragically took his own life aged just 29 in October 2014 after struggling with addiction and mental health problems, and the volunteers help to provide a safe place or sanctuary where people can meet to talk freely or receive drop-in counselling. White Watch often stop by on weekend shifts to talk with visitors, offering fire safety advice and Home Fire Safety Visits as well as supporting the volunteers in the café.
Assistant Chief Fire Officer Shaun Hallam also commended Irthlingborough for being the on-call station with the best availability throughout the year, while the High Sheriff of Northamptonshire, Crispin Holborow, personally handed out two awards to celebrate the work of individuals who have made outstanding contributions to the communities in which they live and work.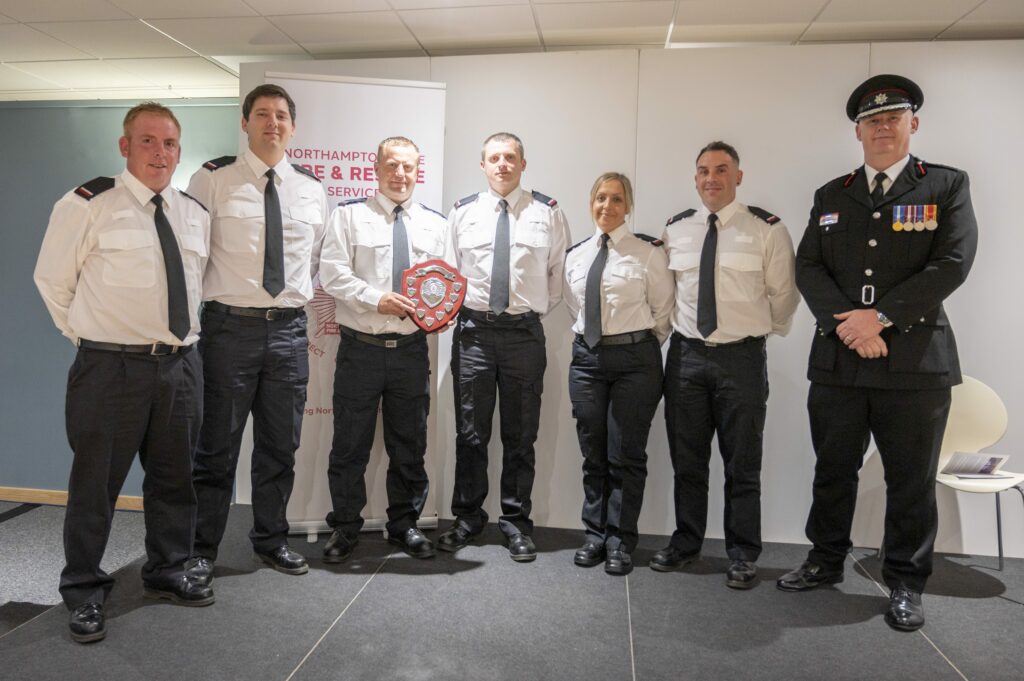 Scott Fitzsimmons was the first recipient after dedicating two years of voluntary work for the Fire Service. As well as helping to deliver medical prescriptions during the COVID pandemic, Scott has played a vital role in attending community events around Northamptonshire including Diwali and Northampton Pride, representing NFRS to promote safety messages.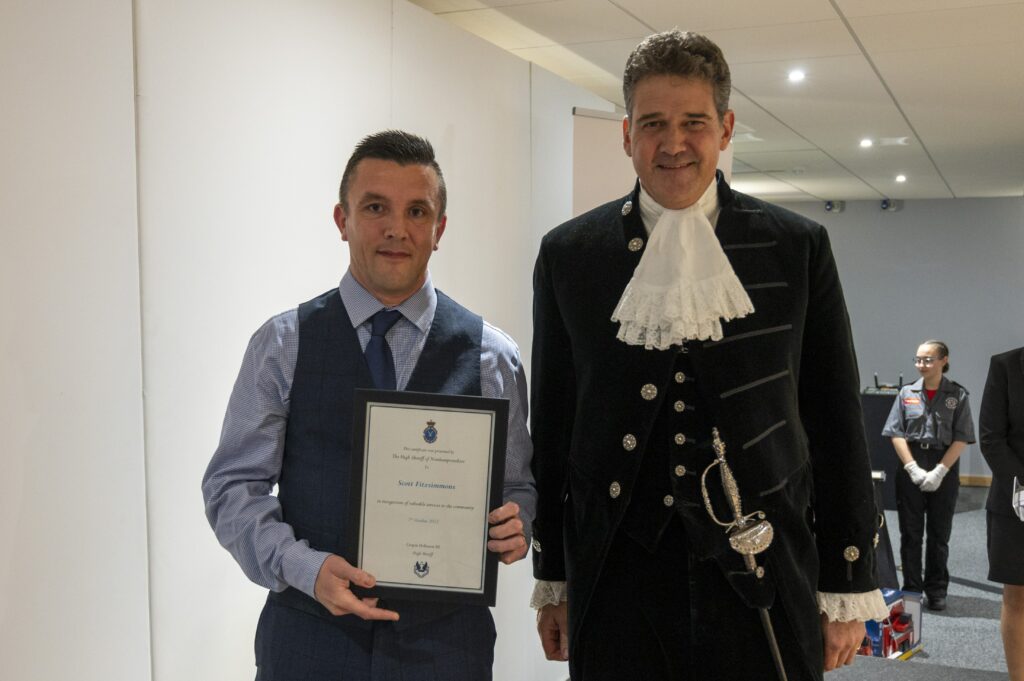 The second recipient was Michelle Bates, a Youth Engagement Officer for NFRS and until recently an on-call firefighter at Raunds Station. Michelle also helps to deliver the Northamptonshire Emergency Cadets scheme, supporting more than 300 young people in their development and empowering them to be advocates for community safety. A number of the cadets under her watch have gone on to become firefighters.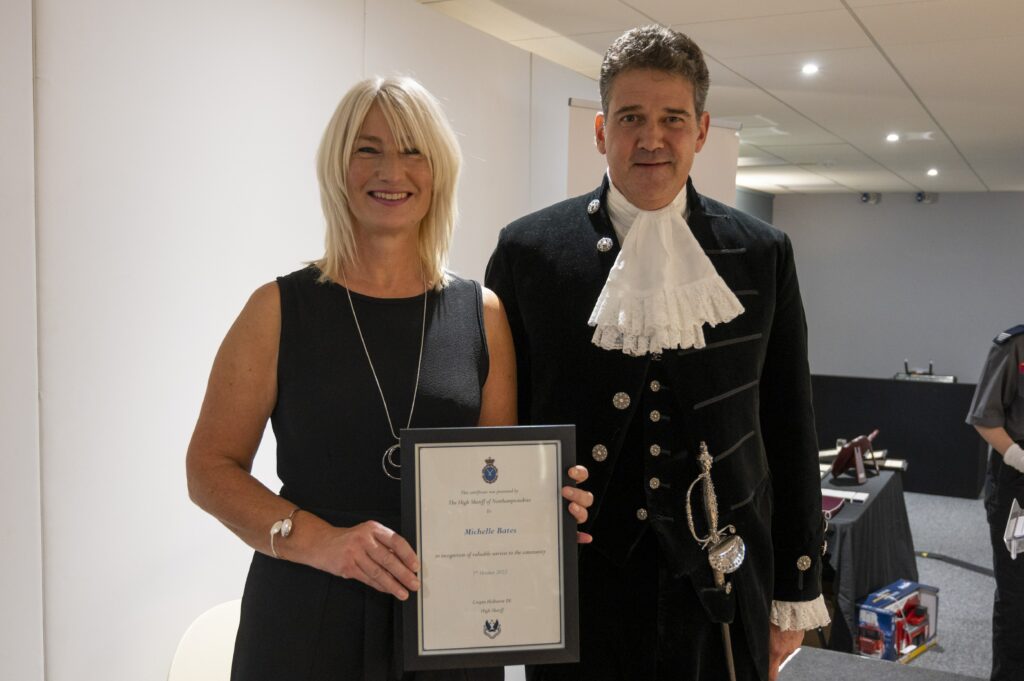 Two members of the public, Charlotte Smith and Tracy Hurley, were also commended for their efforts in assisting a water rescue at Rushden Lakes in June 2022.
Darren Dovey said: "We are incredibly proud of the work done by all our firefighters over the last year, and it was fantastic to reward some of those achievements where people have delivered an outstanding service to the public.
"It's also nice to see our staff celebrate with their friends and family. When a person joins the Fire Service or another emergency service, they do not join alone – the whole family joins with them.
"The Fire Service continues to be held in high regard by the community and this is due, in no small part, to the efforts of the people who we have commended and their unselfish commitment to the safety of our community."