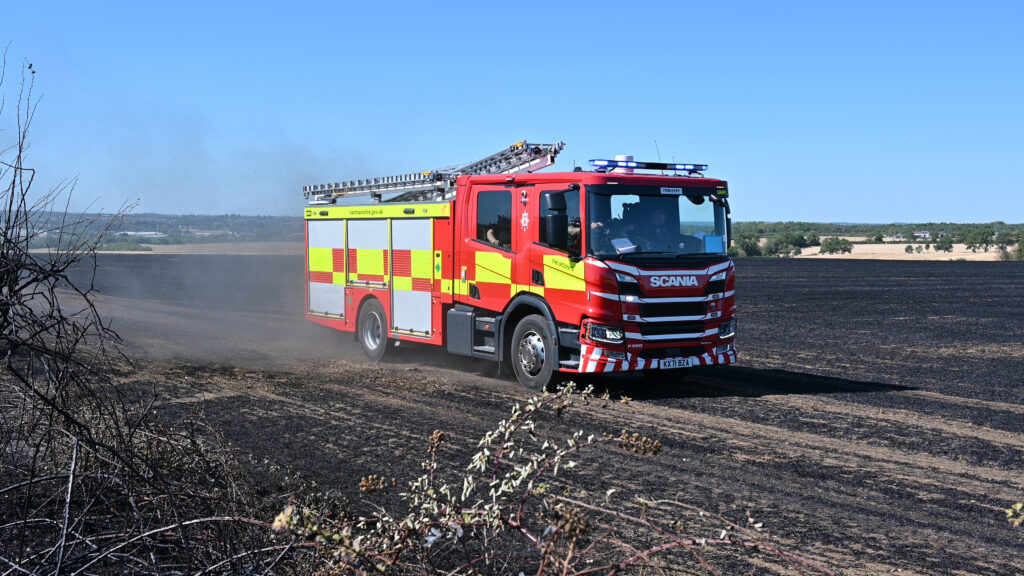 Northamptonshire Fire and Rescue Service attended almost five times as many fires over the last week as this time last year – and received three times as many calls to its control room during the heatwave.
From 6am on August 7 until 9pm on August 13, NFRS received more than 800 calls to its Control Room concerning 328 different incidents. This is significantly more than the almost 250 calls that it fielded in the week commencing August 9 in 2021, while crews dealt with just over 200 different incidents last year.
The big difference this year however is in the number of 'secondary fires' the Service has dealt with – which is effectively fires out in the open. There has been a steep increase on this front, with just 20 registered this week last year compared to more than 100 over the last seven days.
The hot and dry temperatures have undoubtedly played a part in this, with the conditions making fires easier to spread.
The figures have not been helped however by the number of fires that have been started deliberately, with Northants Fire attending more than 50 incidents last week where fires had been deliberately and recklessly started.
Chief Fire Officer Darren Dovey said: "It's been an incredibly busy week for us in Northamptonshire and our Control Room staff have had to deal with a lot more calls than they usually would have, and our crews have been dealing with regular largescale incidents in incredibly tough working conditions.
"When you have as many fires as this we need to plan as best as we can to ensure we have sufficient cover across the whole county, and unfortunately this is not being helped by the number of deliberate fires we are having to attend.
"Because everything is so dry at the moment, it means that the fires are becoming larger than usual and taking up more of our resources.
"In this week last year we only had three incidents that required more than one fire engine. This week we've had 31 incidents that have required more than one appliance, and the maximum we've had at one incident is ten engines.
"We would urge people to seriously think about the repercussions of deliberately starting fires – you are putting not only your own life at risk but also those of our firefighters and the communities in which you live.
"Thankfully we've not had too many incidents relating to things like fires started through disposable barbecues or bonfires, so we're glad to see that most people are taking our warnings seriously and acting sensibly and we would like to thank everyone for their co-operation."