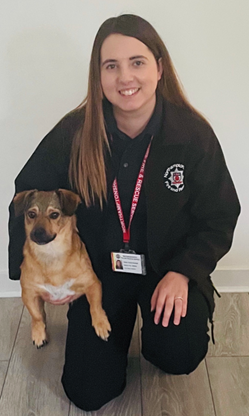 Sonia Wardiell joined NFRS a year ago (Nov 2020) after a career working with children and young people with special educational needs.
During this time Sonia started to take an interest in safeguarding and family support and found herself working with other agencies, such as social workers and therapists, providing appropriate support to individuals and their families.
She was often faced with some challenging situations, especially during her time working at a special school where, as a Family Support Worker, she was helping young people with complex medical needs and behavioural issues. Sonia was making safeguarding referrals to MASH, Northamptonshire's Multi-Agency Safeguarding Hub and offered interventions to assist young people and to support often isolated parents.
Here, Sonia shares her journey into the Fire Service and provides an insight into what it's like to be a Complex Case Officer.
What brought you to Northamptonshire Fire and Rescue Service?
My childhood ambition was always to work for the police, and having worked with young people, I thought the child protection team would be a good career move, but when I saw the position of Complex Case Officer for the fire service, it piqued my interest. I thought it would be a totally new challenge to work with vulnerable adults, adapting my previous experience and safeguarding skills to help a different group of people. I am motivated by understanding people's behaviours, listening to their issues and giving them a voice, so I decided to apply.
What does a Complex Case Officer do?
I work within the Prevention department in the Home Safety team. I am responsible for managing cases that require more long-term input due to their complexities. This includes working with the customer and alongside partner agencies to reduce fire risk. I ensure our approach is person centred, taking into account our customers' wishes and feelings to ensure they are getting the correct support and therefore continue to engage with services. I will complete home visits, attend multi agency meetings, liaise with and refer individuals to different services across the county.
I keep in regular contact with the customers I help, to ensure their wishes and feelings continue to be at the centre of the support being provided. We often find that our contact with customers is their only interaction they have and sadly, as a result of the pandemic, we have seen an increase in customers who are isolated.
What type of issues are most common?
It can take a lot of courage and strength to admit when you have a problem and then seek help. Two of the most common concerns we have found are around hoarding and alcohol dependency. It takes time to build that rapport with someone and for them to open up and discuss what's triggering their issues. I work with customers to understand what support is out there to help improve their living conditions and wellbeing.
Our interventions and offers of support are not always welcome. Many people will not have had a positive role model in their life. Behaviour may have been learned through past experiences and some customers are not aware of the risks they are taking. This is why it is important to have a good working relationship with partners that can help and also to build trusted relationships with individuals, to help them through what can be extremely challenging time.
Can you share any career highlights?
I know that not every situation will be a huge success, but when they are it can be quite emotional. When working in a nursery setting, I supported a boy who had never spoken since starting the nursery six months prior. We worked with a speech and language therapist and tried lots of techniques to encourage communication. One day he finally spoke a few words and he had all of the staff in tears with his progress.
I am currently supporting a couple whose home is hoarded. They are quite isolated, as they don't want anyone to visit and see their home. We managed to build a good rapport and in time they have agreed to accept support from other services in order to clear and sort through their possessions. Their long-term goal is to have their family over for a cup of tea! We keep in regular contact to ensure the correct support is in place.
The role sounds quite stressful. How do you manage that?
The Prevention Team are very supportive, as are the agencies that we work with. That makes a big difference.
I have a busy home life and enjoy spending time supporting my son and husband who are both active at the local rugby club.
We also rescued a dog from Romania. Fawn was found in a field at three weeks old and ended up at an English rescue charity, where she stayed until she was four months old, when she joined our family. She's a mixed breed and was scared of everything, especially people and eating. She just used to hide. She's three years old now and is a great stress reliever.