Northamptonshire Fire & Rescue Service is marking International Women's Day on March 8 by highlighting the excellent work that women are doing in the service.
Whether it is tackling blazes, helping to prevent potential incidents or making sure firefighters are equipped properly – there's truly a role in any department for women who may want to consider joining.
The fire service is on a continual journey to ensure that it is as welcoming and inclusive as possible for everyone, regardless of gender, sex, race or religion.
We spoke to four women who work for the service about their experiences, both in the past and present, and how attitudes towards them are evolving.
CLAIRE ALDERSEY
Claire Aldersey started as a firefighter with Bucks Fire & Rescue Service in 1989 before retiring through a job related injury in 1999. She had a period running her own business before joining Northamptonshire Fire & Rescue Service in 2010 as an Equipment Manager at the Moulton Logistics Centre, a role she still holds.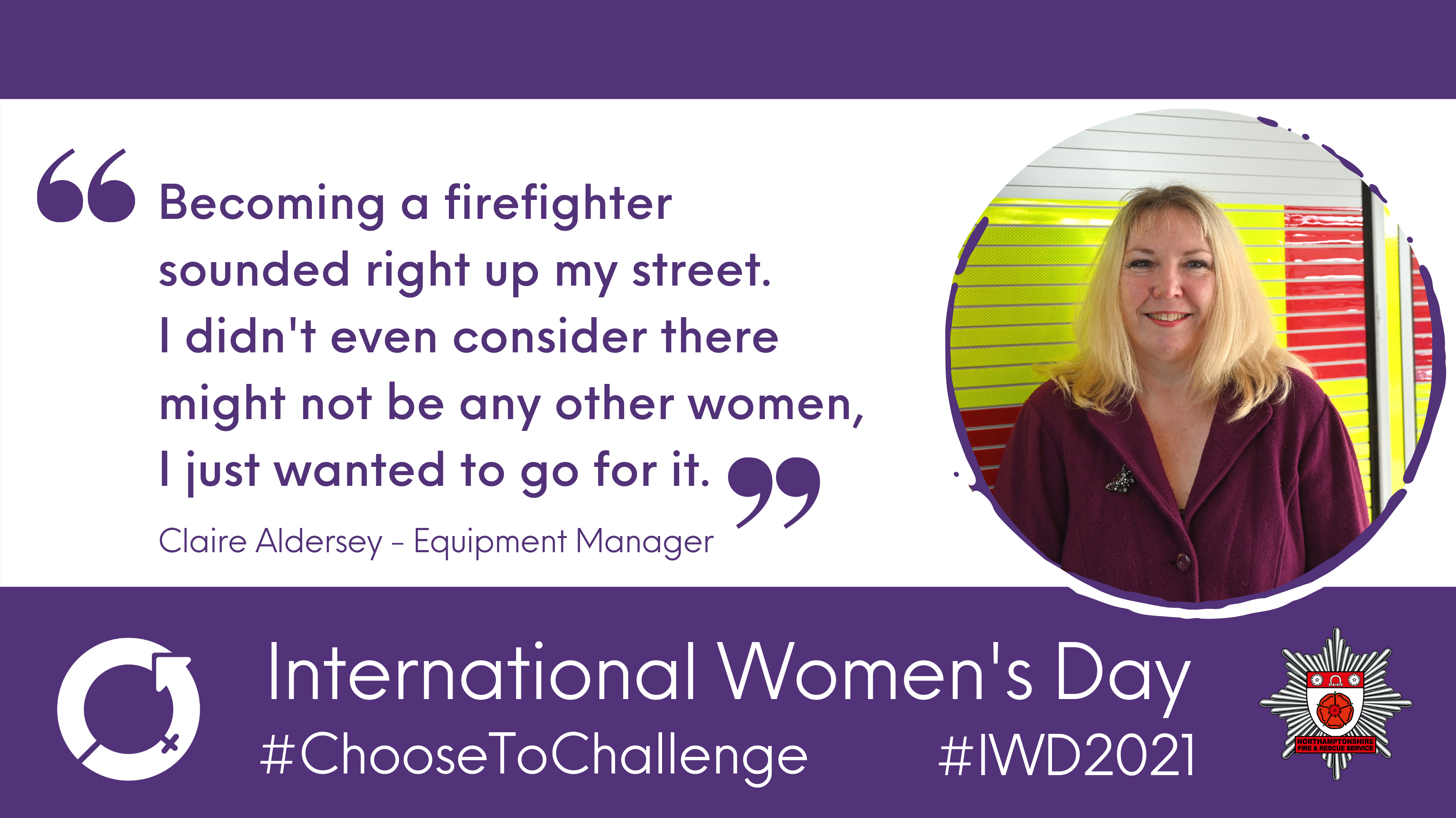 "Becoming a firefighter sounded right up my street. I didn't even consider that there might not be any other women, I just wanted to go for it," she said.
"I was 19 and I applied for every service in the country. When I was taken on and started training that was when I started to be told that I had taken a job away from a man and that I wasn't going to stick around because I would have babies."
Having encountered both sexist and racist attitudes in her first stint with the fire service in the 80s and 90s, she found that upon joining Northamptonshire in 2010 that although attitudes had evolved, there were still barriers to overcome initially.
She added: "It did take a little while for people to accept that I was not there as a token bit of fluff, but over the last decade people have learned to trust my knowledge and experience in making sure they have the right equipment when they go out on jobs.
"Becoming a firefighter is still very rewarding if women want to think about joining. It's not just about physical strength – it's about mental strength, compassion and empathy. They are all skills that are underrated that you use just as much if not more than brawn."
HELEN PILKINGTON
Helen Pilkington acts as an on-call firefighter when she's not running her gardening business. She has also volunteered to drive ambulances for the East Midlands Ambulance Service during the COVID-19 pandemic.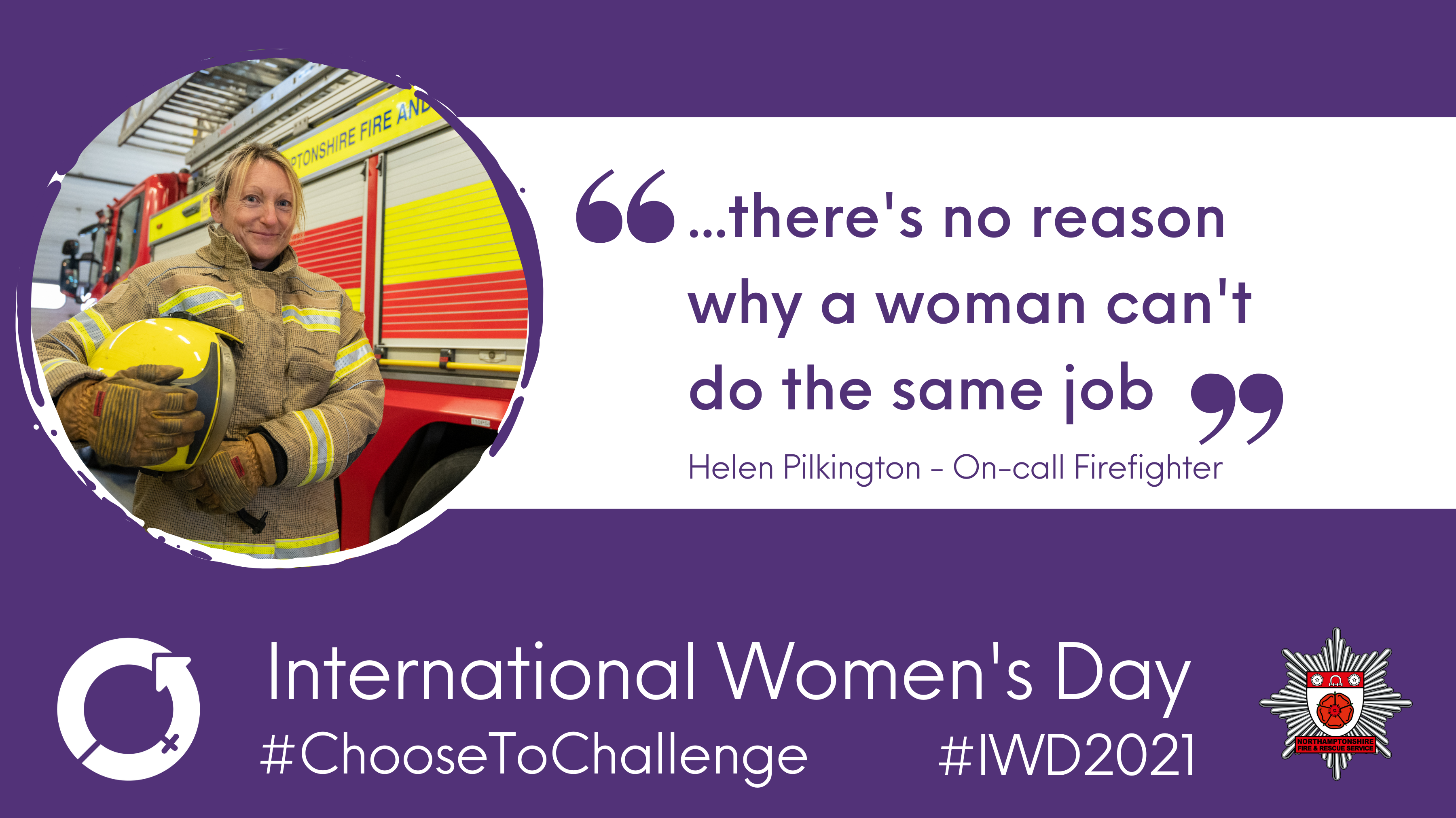 She said: "As a female in the fire service, we are in the minority still but there are more women joining. I believe women maybe have been under the impression that they might not be able to do the job, but as long as you're fit and willing to go out and join in then there's no reason why women can't do the same job.
"I've been accepted very well, especially at Rothwell where they've been a great crew. They are all male but they've been great and it's been no issue at all."
LISA BRYAN
Lisa Bryan is celebrating her 20th year working at Northamptonshire Fire & Rescue Service. Throughout her time here she has worked in prevention and community safety, and is currently the service's Prevention, Safeguarding and Partnership Manager.
She says: "I've enjoyed it and I've not had many negative experiences within the workplace. There have been instances where the community's views of the service have been outdated though. I was once at a local council meeting representing the service and one of the councillors asked me why I wasn't man, which I didn't really know how to answer to be honest!
"I've also spoken to people on the phone who've said they would prefer to speak to a man. I've had to explain to them that I could put them through to a man, but that I'm the one that's running the team or project and am therefore best placed to help them."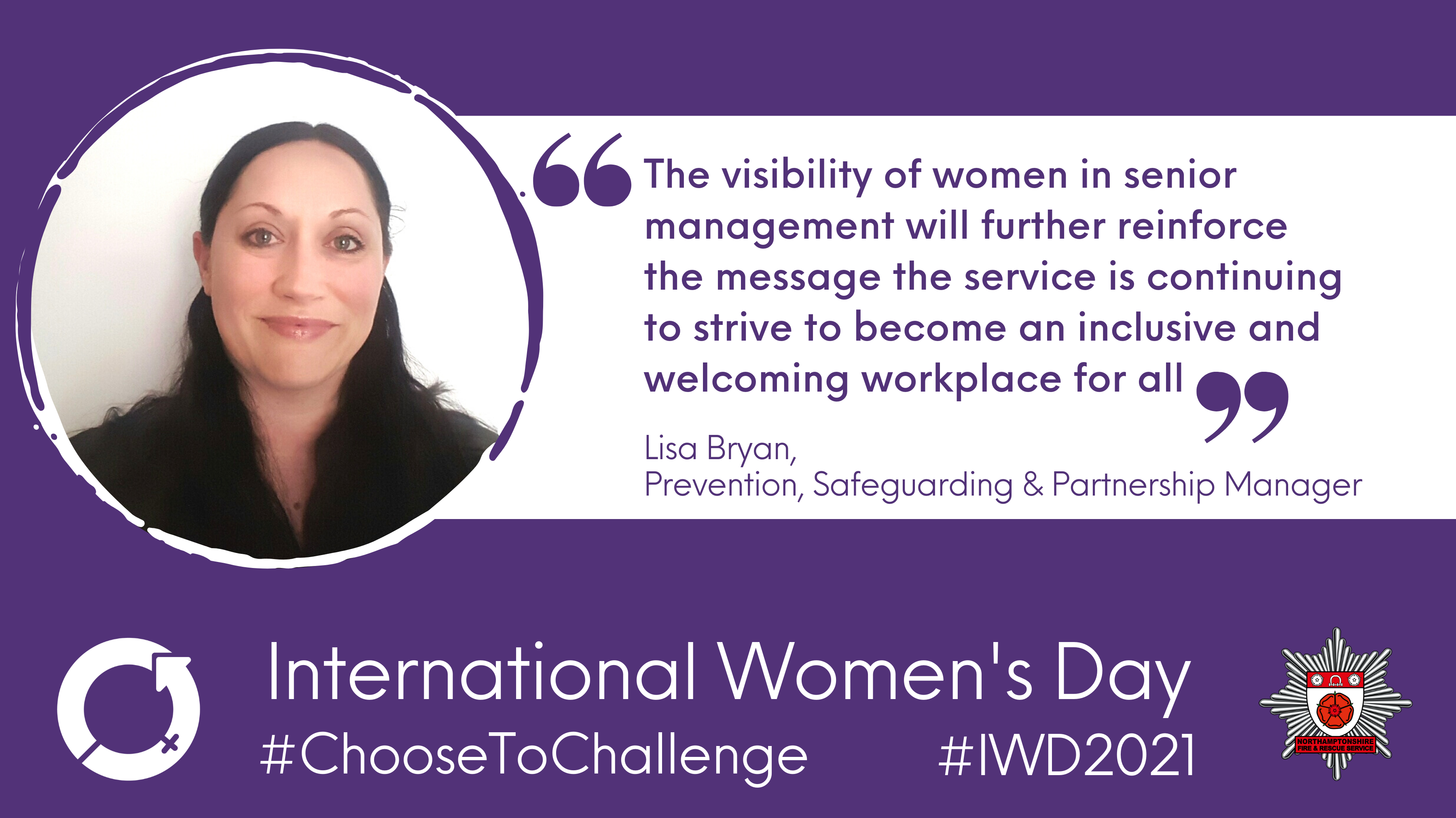 Lisa believes that the visibility of women in senior management and in varying roles in the service will further reinforce the message that the service is continuing to strive to become an inclusive and welcoming workplace for all.
She added: "We have a lot more females in on-call and whole time firefighter roles now, but there are still some outdated perceptions out there in the community which is why we champion this day. We encourage people to use the term firefighters, not firemen – and it's our duty to keep on reinforcing and updating that terminology.
"I'm pleased that half of my prevention team are women, and when we are educating children now we make sure we are showing them images of women in different roles so they understand how our service works and also so that young girls and women know there are different opportunities for them. It's a change in culture and it takes time, but I certainly think it's better now than when I joined."
TINA COLLETT
Tina Collett returned to the fire service in 2016, having previously had an eight year spell as a Community Safety Officer and District Liaison Officer. She now serves as the Prevention Team Leader.
She said: "For me personally it has been an amazing experience and I haven't experienced any prejudice. But equally I know others may have had negative experiences and I'm not blind to that.
"I feel like some of the time it may be down to people not understanding what fire service staff do. It's much easier to understand operational roles, but harder to understand fire service staff roles like Prevention Team Leader or Complex Case Officer.
"I think over the years we have been growing and developing by not accepting things if they are wrong and raising them immediately so that they don't build up and become bigger issues. We should never be afraid to speak out about something that we are not happy about"
Tina's role is overseeing a Prevention Team that carries out enhanced home fire safety visits and safeguards vulnerable people.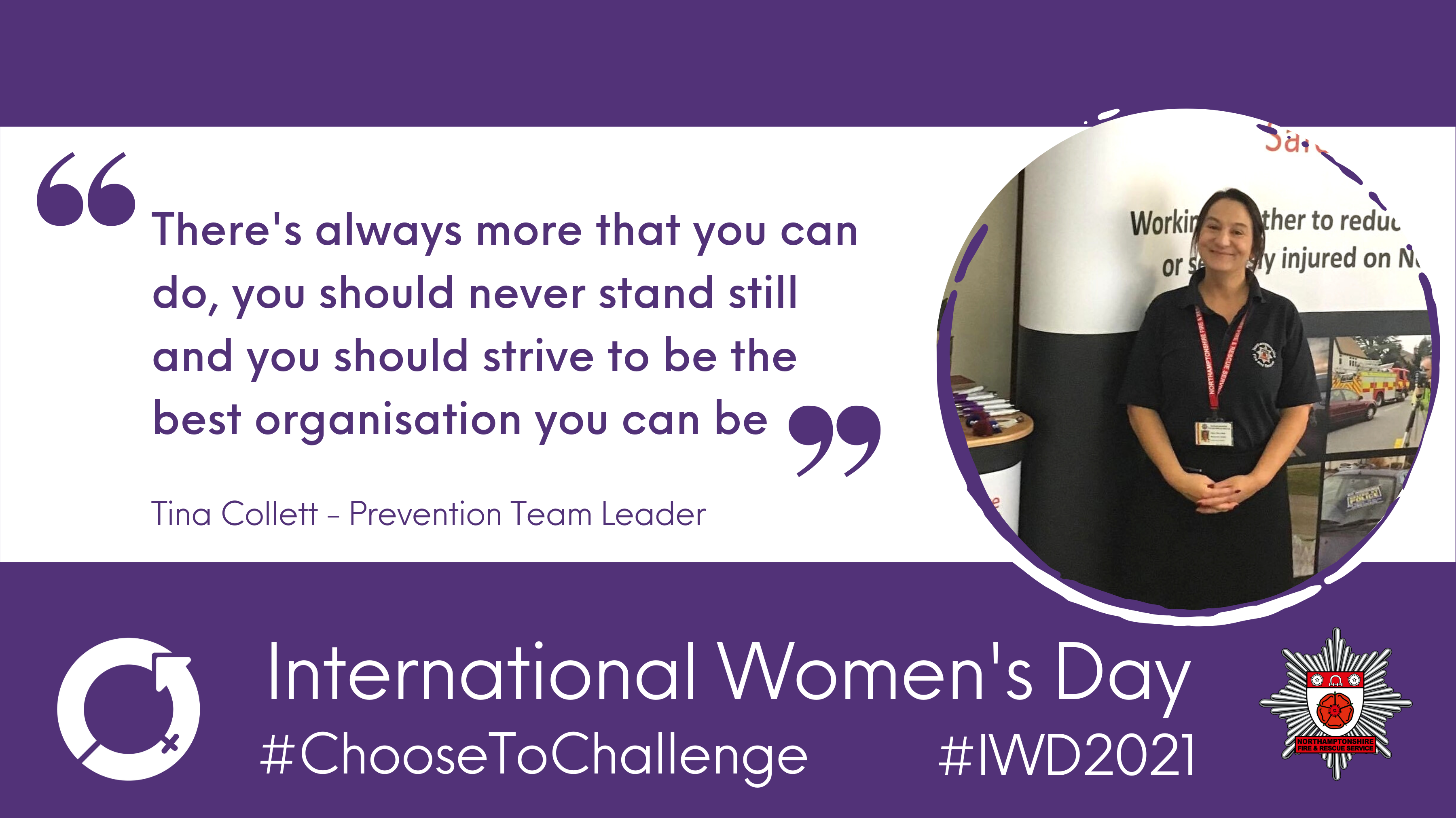 She added: "There's always more that you can do, you should never stand still and you should strive to be the best organisation that you can be. Things have moved on massively from when I was here before and attitudes have changed with a number of women now in senior roles.
"Women can apply for jobs here knowing that there will be a fair process and that's largely down to the fantastic efforts and attitudes of our Chief Fire Officer and senior leadership team, and you know you won't feel uncomfortable going to any of them if you were unhappy with something."