Northamptonshire Fire and Rescue Service is using workplace lateral flow device testing, with officers trained to test their crews to ensure firefighters stay safe at work and out in public during the pandemic.
A pilot scheme began in January at two fire stations, Moulton and Mereway, and that is now being rolled out to all full-time fire stations.
Firefighters on duty take a rapid lateral flow test – a nose and mouth swab – at the station on their first day and first night of duty. The test takes 30 minutes to process, which is done by the watch manager.
While they wait for their results, the crew carry on with the checks and preparation that they need to undertake, in a covid safe way. The tests aim to identify someone who may be infected with covid 19 but is not displaying any symptoms.
Several Northamptonshire Fire and Rescue Service Supervisory Managers are now trained to run the process and carry out the tests, using to protocols developed with and approved by Northamptonshire Public Health.
The aim of the scheme is to identify any firefighters who have the virus but are unaware, in order to reduce the spread to colleagues.
Now workplace testing is being rolled out across all full-time fire stations and training venues, with work underway to see if more public-facing staff could benefit from the tests.
At Mereway, which is a joint fire/police base, police officers are also being tested as part of the scheme.
Dave Ingham, White Watch Manager at Mereway Fire Station, has been carrying out the testing of his crew as part of the project. He said: "It's quick and simple and while it's a voluntary process, everyone is happy to take part part as they all want to make sure they are healthy and keep their colleagues safe too.
"While the tests are being processed, the crew carry out their normal checks and get ready for their shift in a covid secure way, and when the results come in, we are ready to go."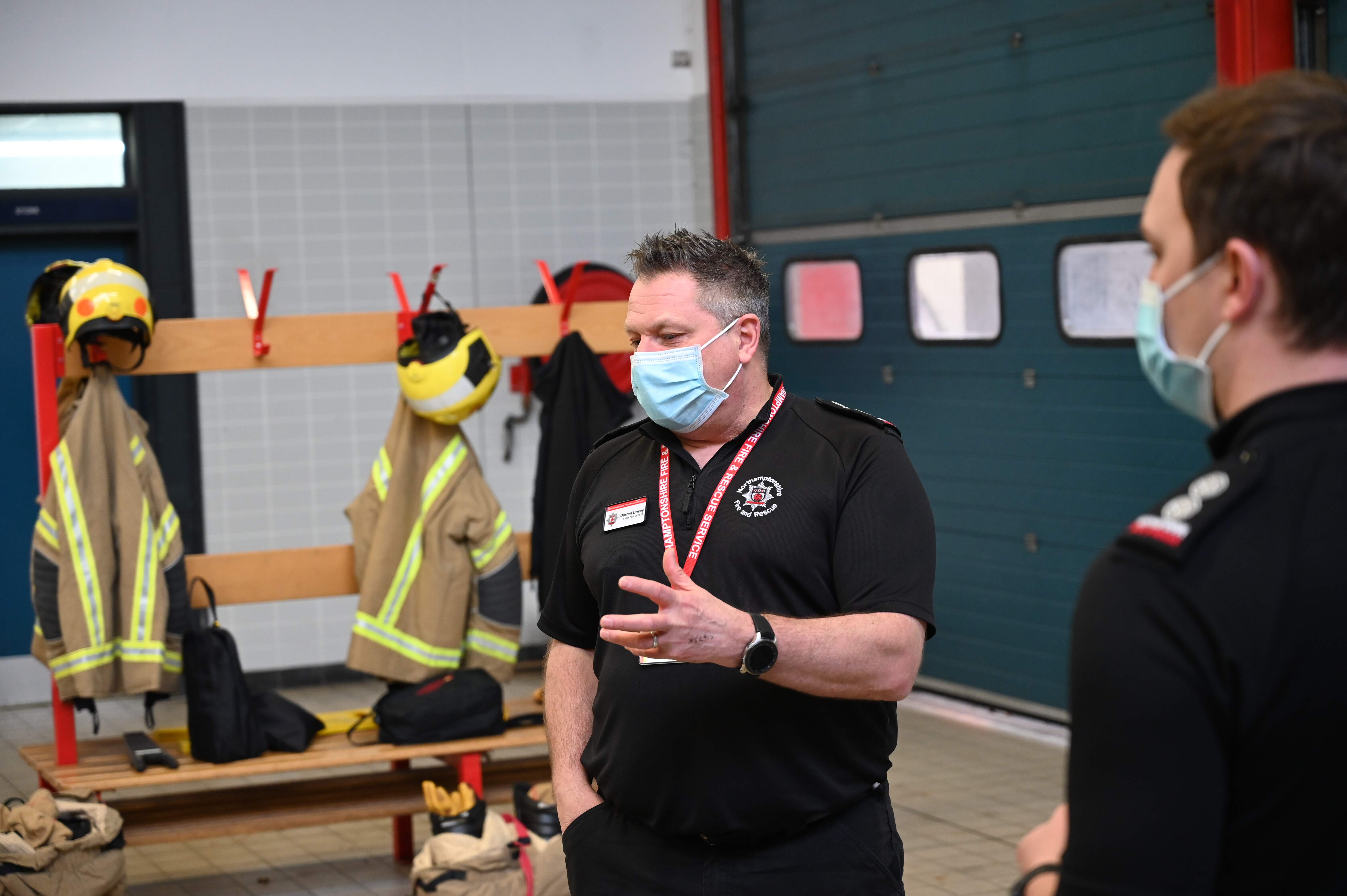 Around 300 lateral flow tests were carried out during the pilot phase, none of which were positive or inconclusive.
Chief Fire Officer Darren Dovey said: "The safety of our firefighters and staff is paramount for us, and we have really robust measures in place to ensure that people can come to work and safely do their job of protecting the public.
"We embraced the opportunity of working alongside Public Health and take the national protocols and flex them to fit our organisation and our way of working. I'm pleased that we have this added layer of assurance that our firefighters are safe at work and that they in turn are keeping their colleagues and families, as well as the public, safe."
Link to video here