Firefighters at Northamptonshire Fire & Rescue Service helped save the day by clearing away heaps of snow so that elderly residents could safely get their COVID vaccines.
The weekend blizzard made paths and roads extra icy, and fire crews from across the county have played their part by making vaccination centres safe for older residents to get their jabs.
On Sunday (January 24), an appliance and five crew members attended Brackley Medical Centre, on Wellington Road, to help clear the car park and patients who were stuck in their cars.
The crew attended the scene for two hours in the morning after getting permission from group manager Steven Swan to lend aid to a number of volunteers who were already present and trying to help.
After helping free the immobilised cars, the crew set up a one-way system and cleared the snow to get things back in order.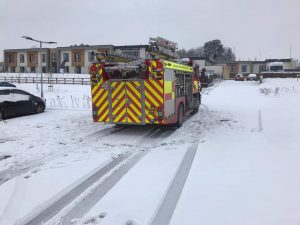 Lee Dawson, the watch manager at Brackley Station, said: "With the circumstances of the pandemic it was the right thing to do. The volunteers who were already there were doing really well, and when we're all pulling in the same direction we can go far."
Meanwhile on Monday morning (January 25) in Corby, urgent assistance was required at the vaccination centre at Woods End Medical Centre, on School Lane.
With 500 at-risk people due to arrive for their vaccination, the heavy snowfall had made the approach road and car park unsafe and inaccessible, leading to fears the centre would not be safe to open.
But senior managers deployed a crew from Corby Fire Station, who quickly got to work with their shovels. Four hours later the car park was cleared of snow, allowing the centre to safely open. Elderly residents who were then able to show up showed their appreciation – from a safe distance of course, while grateful staff provided refreshments to the crew and even baked them a cake.
Kevin Aitken, the station commander at Corby Fire Station, said: "As soon as the call came through from one of our partner agencies we were ready and willing to go and help for such an important cause. The centre had 500 vaccines ready to go, and we could think of nothing better than going down and helping."
Many thanks to Twitter user @Paul_EastMidlands for the above image of our Corby crew.