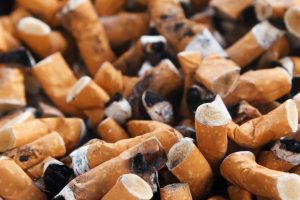 Firefighters in Northamptonshire are this month supporting a national campaign, which highlights the part smoking has to play in the number of fire fatalities.
The Fire Kills campaign, led by the Home Office, states cigarettes and other smoking products cause more than a third of all accidental, fire-related deaths in the home.
Among the greatest hazards for smokers are dangerous practices such as smoking when tired, or in bed, and failing to take proper care when smoking after drinking alcohol.
Between 2010/11 and 2017/18, across England, there were 1,539 fatalities due to accidental fires in the home. A total of 37 per cent of these (565) were linked to smoking materials and cigarette lighters.
Northamptonshire Fire and Rescue Service (NFRS) would like to remind people to 'put it out, right out' when they have finished a cigarette.
The best course of action would be to stop smoking altogether, but for those who wish to continue, there are safety steps to take to prevent fire related accidents.
Tina Collett, NFRS District Liaison Officer, said: "At a national level, someone dies every five days from a fire caused by cigarettes or smoking materials.
"Smokers should take great care every time they light up, steering clear of smoking in bed or under the influence of alcohol. It is also important that, if you suffer a fire at home, there is an early warning to allow a quick escape, so we would like to remind people to make sure they have working smoke alarms on every level of their homes."
Six top tips to smoking safety:
1) Stub cigarettes out properly and dispose of them carefully. Put them out, right out.
2) Always use a proper ashtray, never a wastepaper basket.
3) Never leave a lit cigarette, cigar or pipe lying around. They can easily fall over and start a fire.
4) Take extra care if you smoke when you're tired, taking prescription drugs or if you've been drinking. You run the risk of falling asleep and starting a fire.
5) Never smoke in bed.
6) Keep matches, lighters and all smoking materials out of the reach of children.