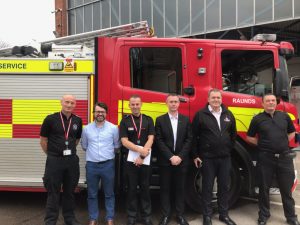 A company in Northamptonshire has stepped in to help the on-call firefighter recruitment campaign by actively promoting the job with its own employees.
Howdens Joinery, which has a warehouse in Raunds, has been showing its support for Northamptonshire Fire and Rescue Service (NFRS) by encouraging its workers to become on-call firefighters.
On-call firefighters commit a certain number of hours per week when they are available to take on fire service duties, but often these people have very different 'day jobs'.
Rushden Station Manager Tony Evans said: "One challenge in the recruitment of on-call firefighters is not only finding individuals with the time to dedicate, but also encouraging companies to support their employees in taking on work with NFRS.
"With more than 300 people working from Howdens' warehouse in Raunds, there is huge scope to boost our on-call firefighter numbers.
"There are benefits to employers in supporting staff to become on-call firefighters. Not only will they then have employees who have fire safety and First Aid expertise, but they will also be seen as companies with a real interest and investment in their local communities.
"One of the main obstacles to on-call recruitment is being able to attract applicants for the daytime hours, and having a company like Howdens willing to free up employees during the day is an incredible help for us."
Howdens originally started its campaign to support on-call firefighter recruitment from its base in Howden, Yorkshire, where a group of 12 employees now work in 'retained' duties at the local fire station, as part of Humberside Fire and Rescue Service. The company also has a team of on-call firefighters at its factory in Runcorn, Cheshire.
Tony Clark is a fire safety advisor working for Howdens as well as a Watch Manager with Humberside Fire and Rescue Service. He commented: "We originally met with Northamptonshire's Chief Fire Officer Darren Dovey, and other senior officers, about 18 months ago to discuss this project.
"We not only actively recruit for on-call firefighters, but we also support employees through the process and give them time off to do it. We are a big employer and if we are trying to support our local communities, there is nothing bigger we can do than help operate the fire service."
Applicants for on-call firefighter roles must:
• Live or work up to eight minutes travelling distance from nearest on-call fire station
• Be 18-years-old or within six months of their 18th birthday
• Be physically fit
To find out more about becoming an on-call firefighter, visit www.oncallfire.uk or ring 01604 797000.