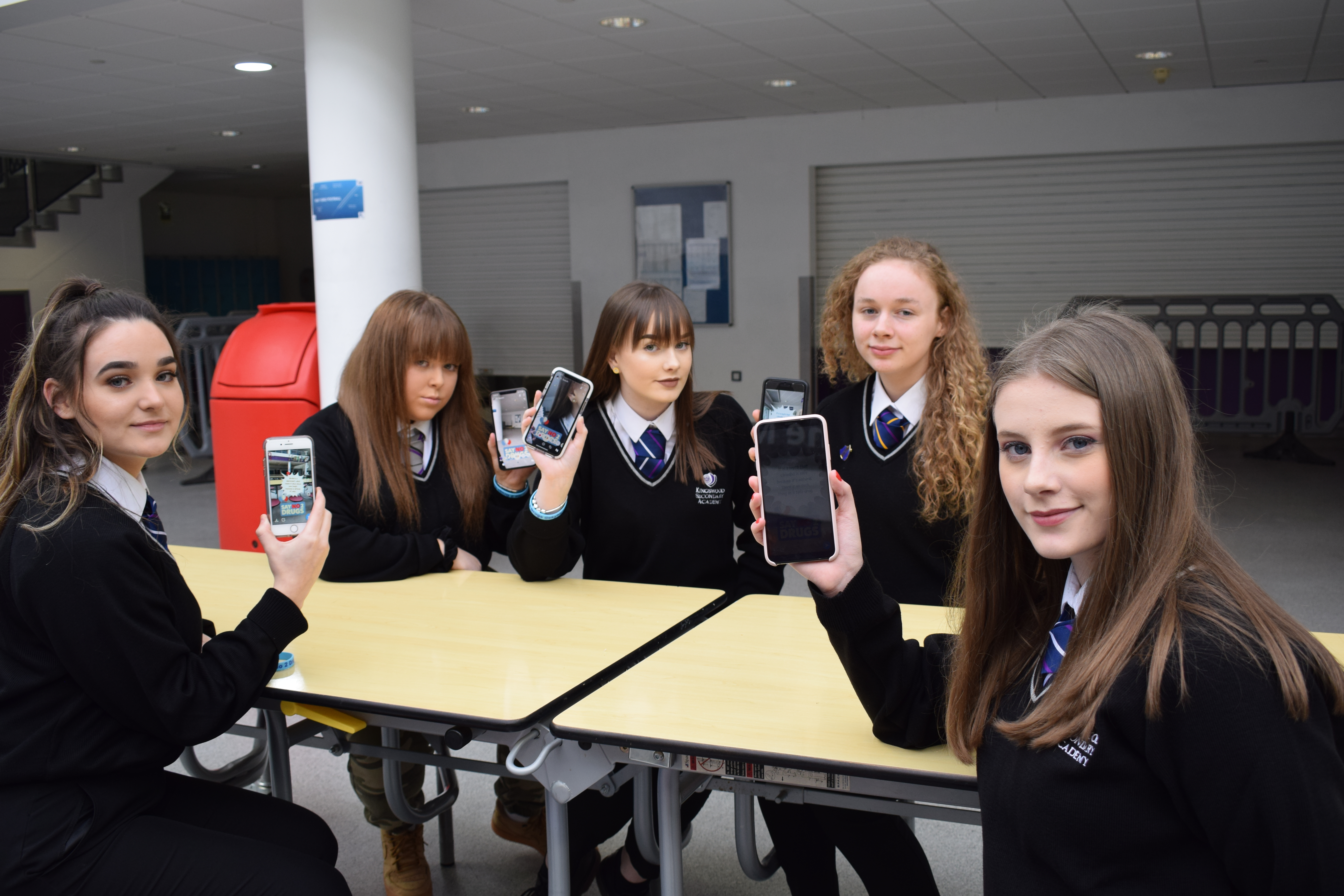 A new Snapchat filter designed by students at a Corby school has been launched to educate young people about drugs.
The Sky High project, developed by a team of pupils at Kingswood Secondary School, was the winning idea in the 2016-2017 Northamptonshire County Schools Challenge (NCSC).
The Sky High filter consists of a series of floating balloons on a screen which, when users click on them, reveal drugs education messages.
NCSC, which is now in its 10th year, is an inter-schools competition in which teams of pupils come up with their own social enterprise ideas on a particular theme.
The theme for 2016-2017 was drugs and psychoactive substances, so schools competed to take part by developing project ideas for educating their peers on this subject.
A team of five pupils, made up of Leona Atkins, Cerys Brown, Sian Carson, Ellis Milne and Grace Parr, won with their idea to create a Snapchat filter featuring floating balloons.
The team's members have also developed wristbands for distribution at their school, each featuring the scan code for the filter and the slogan 'Say no 2 Drugs @skyhigh2k18'. The scan code is also being shared via the school's Twitter feed @KingswoodAcad The filter can also be accessed by typing 'Say no 2 Drugs' into Snapchat.
Tina Collett, who is one of the NCSC organisers, said: "Judges were so impressed with the Sky High idea. What a great way it is to appeal to other young people who look to their phones and the internet in general for so much of their social information and awareness these days.
"This idea really gets to the heart of the way in which so many messages reach teenagers, and these are particularly worthwhile messages as they feature the subject of drugs education. I really hope the Sky High idea takes off and becomes popular with young people everywhere."
The pupils were helped to make their original concept become a reality by £2,000 in prize money from NCSC.
The task of bringing the idea about involved some technical hurdles, such as tracking down a company in America to provide the necessary technology to create the Snapchat lens.
Teacher Sandra Mandziuk said:- The group of girls involved worked very hard on their idea. They were determined to produce some sort of Snapchat app that would give information to young people on their mobile phones. This took a long time to get to fruition but with help it is now up and running. The girls and the school are very proud of their achievements."
Headteacher Andrew Burton said: "It is a fantastic achievement for the girls, for them to have identified a solution to a particular problem (i.e. drugs) that affects youngsters of their age. This is an example of the excellent pastoral care initiatives which have helped us to secure an Ofsted 'Good' rating for the first time in our history. We are very proud."
As part of the annual NCSC, each school usually carries out its own in-house competition before identifying one team to take part in the semi-finals, presenting to a Dragons' Den style panel alongside teams from other schools.
The best teams from the semis are then put forward for the Grand Final, where they have the opportunity to win money to enable them to progress the winning idea, and the right support to turn their social enterprise idea into a reality.
The subject of this year's challenge is knife crime and NCSC organisers are still accepting applications from schools keen to take part.
Representatives from schools are welcome to email NCSC at ncsc@northants.pnn.police.uk or call Henny Cameron on 101, extension 345678.
This year's final will take place on July 8, 2019 at The Castle Theatre in Wellingborough.