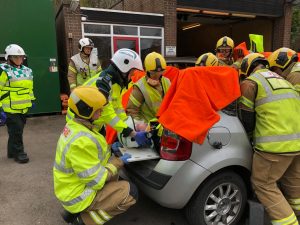 Trainee ambulance technicians teamed up with firefighters as part of a training exercise in dealing with the aftermath of a road traffic collision.
The group of trainees from East Midlands Ambulance Service (EMAS) attended Daventry Fire Station this month to work alongside firefighters in helping casualties as part of a staged collision.
Firefighters had the task of cutting 'casualties' free from a vehicle while their conditions were assessed and treated by the EMAS trainees.
Students spent the day learning how important team working with other organisations is when dealing with serious road traffic collisions (RTCs).
Steve Buckle, Clinical Education Development Specialist at EMAS, said: "The students were able to act as both crew members and patients and now have a much better understanding of the emotions and needs of patients who find themselves in this situation. The students and tutors would like to pass on our thanks to all those who were able to make this day possible and look forward to continuing to work collaboratively in the future."
Declan Mullan, Watch Manager and RTC instructor with Northamptonshire Fire and Rescue Service, said: "We have been working and training alongside EMAS for a couple of years now and we have both gained a great deal from the experience. Our crews benefit from the opportunity to practise their own skills with EMAS in attendance and I think it is also useful for the trainee technicians to learn a bit more about how firefighters operate at this kind of incident."