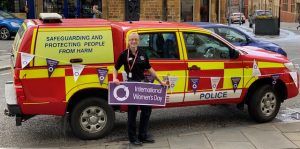 Firefighters from Northamptonshire Fire and Rescue Service (NFRS) were among those to attend a special event to mark International Women's Day.
The event, hosted by Northampton Borough Council at the Guildhall, included a packed programme of family fun, ranging from musical performances to children's entertainment.
NFRS was among the organisations to front an information stall at the event, which focused on celebrating the role of both male and female firefighters.
A recruitment campaign for on-call firefighters is currently ongoing within NFRS and the service is keen to attract more recruits from a variety of backgrounds.
The role of an on-call firefighter is a flexible, paid position which people often take on in addition to a very different 'day job'.
Station Commander Ashley Tugby, who was among those who attended the event in Northampton on Saturday (March 9), said: "We were really pleased to see so many visitors at the Guildhall's International Women's Day event.
"If anyone takes on the challenge of becoming an on-call firefighter, full training is given. In the past, on-call firefighter posts have been filled by everyone from hairdressers to factory workers to retired people, restaurant managers, and otherwise full-time mums and dads at home.
"Becoming a firefighter is so much more than putting out fires. We could be called out to anything from road traffic collisions to chemical spills, water and animal rescues, air and rail crashes. We are familiar faces in the community because we regularly carry out visits to support our fire prevention work too.
"We believe diversity is something that benefits us all, so we're committed to equality and are working hard to build a workforce that's as diverse as the communities we serve."
Applicants must:
Live or work up to eight minutes travelling distance from an on-call fire station
Be 18-years-old or within six months of your 18th birthday
Be physically fit
To find out more about becoming an on-call firefighter, visit www.oncallfire.uk