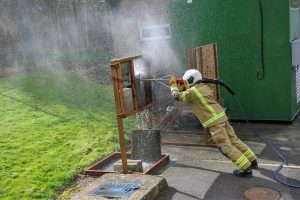 Firefighting skills, such as the use of Cobra high powered cutting technology, were demonstrated at Daventry Fire Station during a recent visit by local councillors.
Daventry's Mayor, Councillor Lynn Jones, Deputy Mayor, Councillor Mike Arnold, district councillors and Daventry Town Council Chief Officer Deborah Jewell were among those who visited the station.
Firefighters staged demonstrations in firefighting techniques but also used the visit as an opportunity to raise awareness of the partnership work they had been involved with locally as part of Operation Unite, to help tackle arson and anti-social behaviour in the town.
Crew Commander Duncan Timbs said: "We were really enthusiastic about welcoming local councillors to visit our station. We obviously attend local fires but our role goes far beyond that as we also work hard on community engagement as part of Operation Unite, which has been running for more than a year now.
"We are also very active in visiting local schools to try to educate young people in the area about the dangers of arson and what they should be looking out for and reporting in their own communities."
Councillor Jones said, "The time spent with Daventry firefighters from Northamptonshire Fire and Rescue Service was certainly eye-opening. The level of partnership working they are involved with in the town is commendable, especially their joint working with Northamptonshire Police in order to reduce anti-social behaviour, including reducing arson attacks and knife related crime.
"I am very proud to live and work in a town where the emergency services take such an in-depth interest in their community and the Town Council is eager to work on other projects with the team in the future."