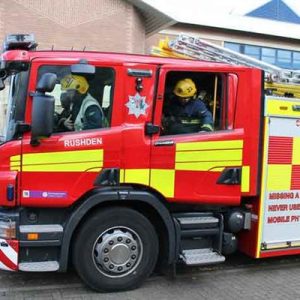 We aim to make Northamptonshire safer and responding to emergency calls and ensuring the right staff with the right skills and the right tools gets to the emergency quickly and safely is at the heart of our response.
We have 22 fire stations in the county and provide a 24 hour a day service 365 days a year.
Our Integrated Risk Management Plan (IRMP) sets out how we deliver and are improving our services.
Standards of operational response
As part of Northamptonshire Fire and Rescue Service's process of continuous improvement, a full review of the current standards of fire cover being applied to Northamptonshire was carried out in 2007.
This review looked at the changing role of the modern fire service, taking account of changes in legislative requirements, but more importantly to ensure the people of Northamptonshire, and those who work or travel through it receive the quality of service expected.
The standards of response not only deal with responding to emergency incidents, but ensure proactive work to reduce risk is captured along with how performance will be monitored and where possible improved.
The new standards of operational response not only present significant improvements in managing risk to the community but are designed to provide the flexibility for the Service to manage change through improvements in operational procedures, new technology and risk intelligence, while at the same time actively working with partners to continually improve community safety.
The full document can be viewed on the link below:
Our response strategy
In line with statutory responsibilities under the:
We are committed to providing a range of response capabilities to ensure we are capable of dealing with the full range of emergencies that reasonably could be expected for us to attend.
These emergencies may take place within the county of Northamptonshire or outside it and may be National or Sub-National in nature, i.e. wide area flooding.
Our response strategy is designed to illustrate how we intend to meet the challenges of operational response, both now and into the future, to ensure the safety of the community and our own staff.
It takes into account all of the risks that can be reasonably anticipated in line with the concept of Community Protection Plan (CPP) and meet a core aim of "helping those that cannot help themselves".
Access to support after an incident
The Fire and Emergency Support Service (FESS) is designed to meet the needs of people who have suffered damage to their home following a fire, flood or similar incident.
This free service is delivered by specially trained volunteers, who work in co-operation with us. They use an adapted vehicle to assist them in providing practical and emotional support to the victims of the incident. They will arrive at the scene within 90 minutes of us contacting them.
What type of service is available?
Immediate temporary shelter in the FESS vehicle
Assistance in seeking temporary accommodation
Emotional support
Sign-posting to other organisations
Support with the care of children and pets
Use of shower and toilet facilities
Provision of toiletries
Clothing
Light refreshments
Use of a telephone
Use of a camera to assist with insurance claims
First aid
The FESS relies upon the generosity of the local community.
If you would like to support the service by making a donation or becoming a volunteer, please see the British Red Cross website.
What happens when you dial 999
When you dial 999 and ask for the fire service, your call is sent to an emergency call handling centre which directs all fire calls to the local fire control centre where calls are normally answered within 1 to 5 seconds.
Fire control operators will take details from you such as your name and the address of the incident and help will be sent to you immediately.
What does fire control do?
When your call is received, fire control staff enter the details in the command and control system. This system automatically finds the closest appliances and officers able to respond, and activates the turnout system at the fire station – turning on the station alarms, contacting the firefighters via personal alerters, and any other task necessary. The address of the call is sent to the fire station teleprinter and to mobile data terminals in the cabs of the appliances.
Fire Control initially mobilise to each incident with a specific response called a Pre-Determined Attendance (PDA). This will vary considerably due to the following:
Location
Type of incident
Type of property (for example: high rise and hospital)
Crewing (personnel) required
Equipment required
Communicating with the firefighters
There are 2 radio channels within the vehicles so all officers and appliances attending incidents can keep fire control informed of where they are and what they are doing.
When they arrive at the incident, they may require more assistance and this is requested over the radio. All requests for further assistance are monitored and mobilised by fire control as they have a complete overview of all the resources available in the area and the neighbouring counties, and can quickly mobilise additional fire appliances to support those in attendance.
To ensure that all details, such as road and place names, are communicated accurately, fire control use the nationally recognised phonetic alphabet.
Maintaining cover at other fire stations
One of the important jobs that fire control have to do is to make sure that cover is maintained at all of the county's fire stations. When further calls are received, they will make standby moves, mobilising fire appliances to any of our other fire stations to ensure that they are available for subsequent incidents.
False alarms
Every call and radio message is automatically recorded. This recorded information can be used as evidence if required.
People making malicious false alarm calls can be prosecuted. False calls can mean that fire appliances mobilised to such occurrences can reduce availability and response times for real emergency situations.