Northamptonshire Fire and Rescue Service is continuing its pledge to support members of the Armed Forces community – recognising the value of serving personnel, veterans, Reserve Forces and military families by re-signing the Armed Forces Covenant.
Chief Fire Officer Mark Jones re-signed the Covenant for the Fire Service alongside Police, Fire and Crime Commissioner Stephen Mold and Northamptonshire Police Chief Constable Nick Adderley at an event this afternoon (January 31) at Darby House in Wellingborough.
The Armed Forces Covenant is an acknowledgement that those who serve or who have served in the armed forces, and their families, are treated with fairness and respect in the communities, economy and society they serve.
In 2019, Northamptonshire Fire and Rescue Service (NFRS) was awarded the Armed Forces Covenant Bronze award for employers, meaning it ensures that its Forces employees do not face any disadvantages in the provision of public and commercial services compared to other citizens; offering flexibility in granting leave before, during or after the deployment of a spouse or partner; and supporting employees who choose to be members of the Reserve Forces by accommodating their training and deployment wherever possible.
Northamptonshire Fire and Rescue Service is now aiming to increase that support further by applying for the Silver award for employers, an application which will be sent to the Ministry of Defence in the coming weeks.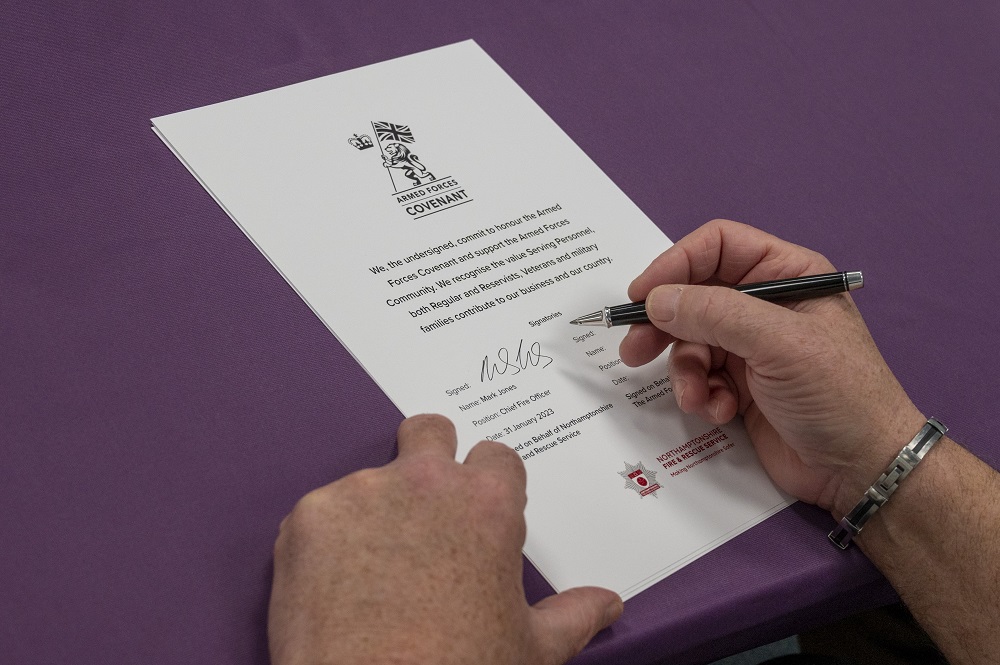 Craig Douglas is a Station Manager for NFRS and the Service's Armed Forces Champion. He served in the Army from the age of 17 until he was 25, when he joined Essex Fire before joining his hometown station in Corby with Northamptonshire in 2015.
As the new Armed Forces Champion, SM Douglas is already aiming to bring together a community of former armed service personnel who work for the Service – to raise awareness of the variety of transferable skills and qualities people with military backgrounds can bring into the civilian workplace.
Craig Douglas said: "As a proud military veteran, I know first-hand how important it is that the efforts of our Armed Forces are recognised and that those people who risk their lives for us feel valued for what they have done."
Chief Fire Officer Mark Jones added: "Northamptonshire Fire and Rescue Service has already demonstrated its commitment to this by achieving the Bronze award four years ago, and we now want to go further in making our Service even more inclusive by aiming for the Silver award and ensuring that our staff and their families are rightly recognised for the contributions, and receive a level of support that is fitting for the sacrifices they have made."