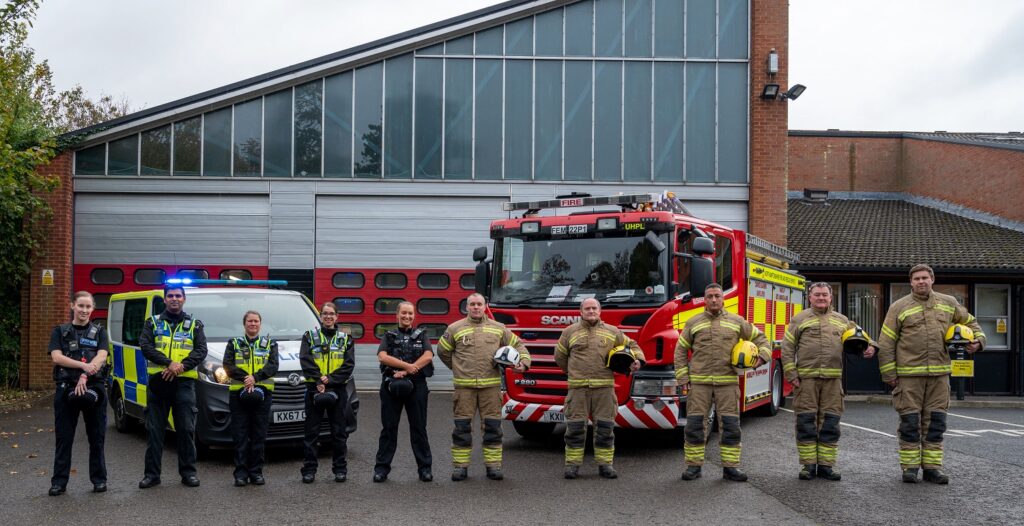 Police officers and firefighters are working together to put Rushden first in a fine example of collaborative working.
Rushden Fire Station can be highlighted countywide as an example of best practice with the fire crew working hand-in-hand with the town's Neighbourhood Policing team.
Fire Station Manager Craig Douglas and Neighbourhood Policing Sergeant Leigh Françoise Goodwin have worked hard together to build a healthy relationship that sees the two teams complement each other's work in the community. The 20 police officers will often attend incidents and community events with the 14 wholetime and 15 on-call firefighters.
"There were massive grey areas to start with," said Craig Douglas. "But we made the conscious decision to sit down and work out how we could work together to get the best outcome for the community. That required the buy-in from my fire crew to support the police with their initiatives."
The two teams have already worked together in combining police attending incidents and working out if there were opportunities for the Rushden crew to carry out home fire safety checks.
Sergeant Leigh Françoise Goodwin said: "Since the police station closed in Rushden people thought we weren't in the town anymore, but we are. A lot of people still don't know that we work out of the fire station, but we're slowly breaking down barriers and the public are learning to trust both emergency services because they can see we're actively supporting them together."
SM Douglas added: "There's a trajectory towards joint working and we've had members of the public comment how good it is to see police and fire walking around together. We're still very clear on our separate roles and responsibilities, but we've found a way to help facilitate all our needs whilst remaining community focused."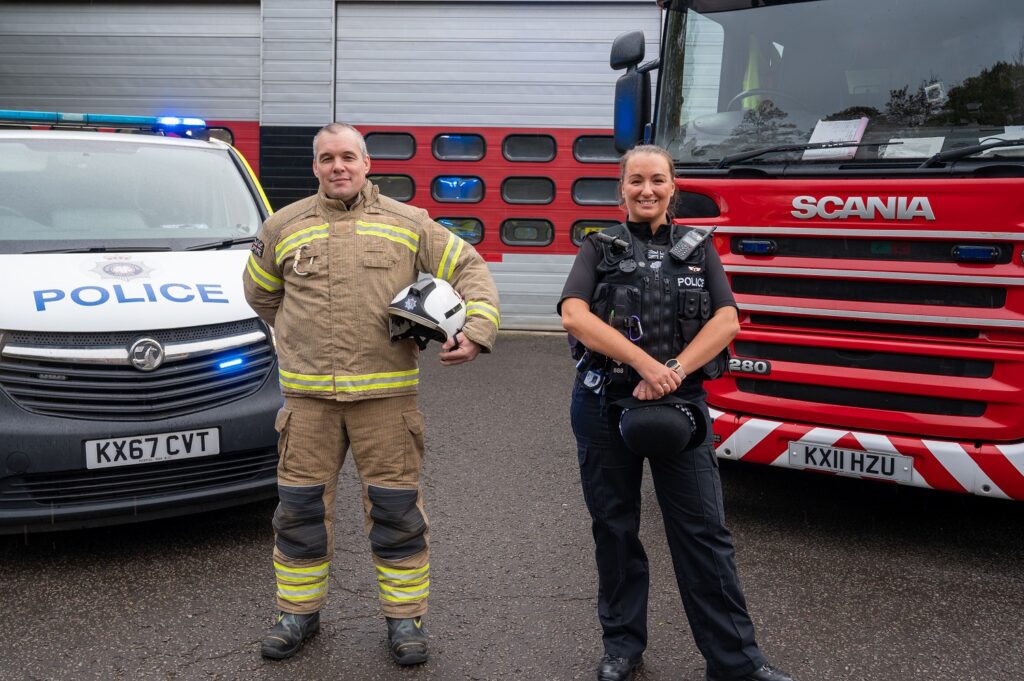 The two teams will join together for an event at the Market Square in Higham Ferrers at 7pm on Friday (November 26) demonstrating the dangers of drink driving and demonstrating how fire crews will rescue trapped passengers.
Leigh Françoise Goodwin said: "The purpose of Friday's event is to highlight the realities of drinking and then driving, the tragic consequences of making the selfish and dangerous decision to get behind the wheel when intoxicated, and the work both emergency services do at the scene of a road traffic collision.
"We are hoping for as many people as possible to come along and officers from both services will be more than happy to chat to those present about the work that we do or to answer any questions people may have."
Craig Douglas added: "We are working with our police colleagues to raise awareness of the dangers of drink driving, to help reduce the number of road incidents we attend, especially as we approach the Christmas period. We want to discourage anyone thinking of getting behind the wheel after a few drinks, or the day after, and ensure they consider the implications of their actions on themselves, their families and the families of a potential victim."
Speaking about the partnership working, Police, Fire and Crime Commissioner Stephen Mold added: "It's fantastic to see both fire and police working collaboratively in Rushden. This year I have put together my first ever Police, Fire and Crime Plan, and that's because I firmly believe that the best way to make this county safer is for our emergency services to work together."